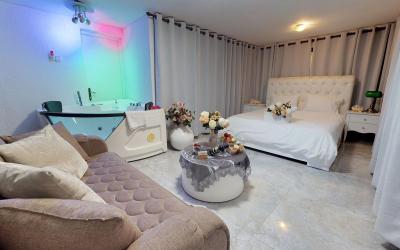 The luxurious mansion suite
The magnificent Royal Suite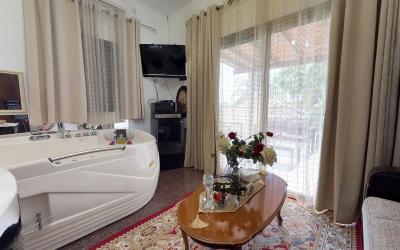 About Us
Ahuzat Sara Beit Elazari - for couples only - A pampering and prestigious accommodation complex for couples only
A quiet and peaceful B&B complex located in Moshav Beit Elazari, near the Bilu junction. The complex is built on a huge area and is well maintained with 3 luxurious and pleasant suites for hosting only couples. Ahuzat Sara is an ideal place for vacation, entertainment, pampering and relaxation against the backdrop of a pastoral and romantic view and close to restaurants, cafes, banquet halls and business centers in the center. All suites in the place are tastefully equipped for a real vacation.At Ahuzat Sara you will enjoy a swimming pool in the summer season, a rural atmosphere among the palm trees, plenty of pleasant seating areas and a wholehearted and pampering hospitality experience.Ahuzat Sarah is wrapped in landscape and love, open to vacationers in all seasons, mid-week on weekends and holidays and offers romantic and pampering accommodation accompanied by a personal and courteous attitude, answering every request, professionalism and unparalleled quality.The complex is only a 15-minute drive from the airport
The interior of the suites
The mansion has three private and romantic suites for couples only in a luxurious design, in each of the suites a double bedroom, a fully equipped kitchenette, a particularly pampering Jacuzzi, and many other surprises.
Include on vacation
Towels, bath lotions and bathrobes will be waiting for you in the room.Milk, soaps, cookies, chocolates and seasonal fruits.For an additional fee and prior arrangement, you can book professional massages.For an additional fee and prior arrangement, you can order a sumptuous dinner / lunch.For an additional fee and prior arrangement, you can enjoy a sumptuous breakfast.In addition, the arrangement of the B&B in a particularly romantic design for celebrating special events.Suitable for the religious public
Bridal package
In the magnificent mansion there is a wedding night package.By prior arrangement, the happy brides will be waiting for a variety of treats in the suite, ranging from a pampering Jacuzzi, cozy bathrobes, a comfortable bed with embroidered bedding, chocolates, fruit, wine and light refreshments. The suite has a well-kept courtyard suitable for photography, with many fruit trees and collectible vehicles on site. Massages to the suite can be booked in advance.In addition, it is possible to leave late the day after the event + a sumptuous breakfast straight to you.
Important Information
* The complex is only a 15-minute drive from the airport* The complex accepts bachelor / bachelorette parties by prior arrangement with the host
Booking Conditions
click here
facilities
Found a mistake on the pag Ahuzat Sara Beit Elazari - for couples only?
click here