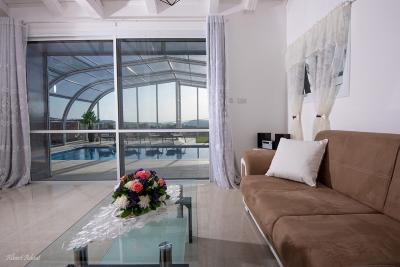 Large, spectacular modern design situated overlooking the open rolls and hypnotic - perfect for couples, families and private celebrations.
About Us
Tohar-Luxury Suite - Suite Dreams prestigious and spectacular with a huge pool and panoramic views.
"Tohar-Luxury Suite r" is a large private suite in the heart of the Galilee, provides a magical experience double accommodation and intimate style resort "good life". The place extends over a large area full of details for you and it centers on a huge swimming pool and jacuzzi spa dreamy - well heated and wrapped in glass walls full of winter, so you can always continue to enjoy from the great views. The suite interiors combined modern design touches "retro" effervescent. "Tohar-Luxury Suite " is located just a few minutes away from the most famous sites in the Western Galilee: Rainbow Cave, river Kziv, Park Goren and Rosh Hanikra. In addition, you can enjoy from Achziv beaches and variety stunning area attractions within a 10 minute drive at most.
In suite
Enjoy a bedroom suite decorated, large bed, LCD screen, satellite channels, additional children's room with two bunk beds, two large salons and luxurious accommodation, home theater, large dining table, luxurious and large kitchen suitable for cooking. In the complex you will find a luxurious mosaic pool and in a dead heat, a huge spa Jacuzzi, full glass walls, stone barbecue area and seating areas designed and rich.
Winter
External enclosure and heated indoor well as whirlpool spas and hot pool and fit in the winter. In addition, landscape paintings becomes particularly complex and there is a possibility of snow in high season.
Emphasis on the spot
Beyond the existing pampering suite being very lucrative and prestigious, massages can be booked in advance a maximum of professional experience, in addition you will get a fine wine, seasonal fruit, coffee, pastries, candles, cosmetics and toiletries.
Location
From the seat itself out ATV and Riizrim, near the seat you can go horseback riding, Jeep, ranger, hiking and bike tourist places and many high-quality restaurants.
Important Information
Swimming mosaic large luxury built magnificent technique safest and best.Full heating in the winterFull glass walls and upscale, allowing panoramic views of the spectacular cylindricalAn additional NIS 150 for a childSupplement for additional adult NIS 200NIS 120 double A.bokrA.bokr child 35 NIS
Booking Conditions
click here
facilities
Reviews on Tohar-Luxury Suite
Reviews were written by visitors who stay us a guest in
Tohar-Luxury Suite
Found a mistake on the pag Tohar-Luxury Suite ?
click here