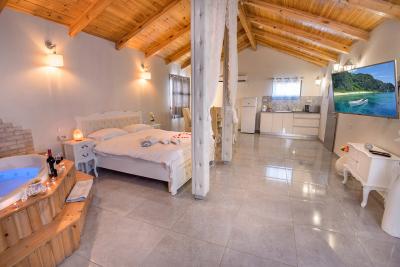 About Us
Pninat Hamaayanot - Pampering suites for perfect romantic and family vacation
On Moshav Rehov, four kilometers south of Beit She'an in the beautiful spring valley, is the enchanting and luxurious "Pninat Hamaayanot" complex, four pampering suites, well equipped and designed to a high standard suitable for any type of vacation you choose.All suites have a well-kept garden with a cool and pleasant swimming pool with comfortable sun beds, a rocking hammock, seating areas and a barbecue area.The location of the complex is wonderful and a variety of fun attractions are found nearby, hiking trails, riding, Gan Hashlosha (the Sachne) and more.
The suites are designed and luxurious
There are 4 luxurious suites in the complex that are romantically decorated but also contain a children's room and are suitable for a family vacation.Each suite is designed to a high standard and is meticulously equipped. The suite has a large king size bed and is designed in a romantic style, with a SMART TV screen with cable connection, a pampering Jacuzzi and romantic. The suite also includes a dining area and a large bathroom with soaps and soft towels. The suite also includes a refrigerator, microwave, electric kettle, coffee / tea corner, serving dishes, platter and sitting area. The suites have a separate children's room and each suite has a private balcony with a pleasant seating area overlooking the landscaped green courtyard.The four suites called the "Light Suite", the "Peace Suite" and the "Love Suite". And indeed you will not be able to feel full of peace, light and love returning from your dream vacation in the "Pninat Hamaayanot" , full of energy.
The common area of the suites
Guests of the complex will enjoy a well-maintained garden courtyard with a cool swimming pool and a luxurious wooden deck surrounding it, the pool is safe and fenced. The garden complex features comfortable seating areas, hammocks, sun beds and a barbecue area. At night the garden is lit with pleasant night lighting so that you can sit back and enjoy the peace and tranquility that surround the magical complex.
Include hosting
Guests will enjoy a coffee / tea, milk, fragrant soaps and soft soft towels.extra chargeA selection of pampering massages can be ordered in advance.You can also enjoy rich breakfasts directly to the suite by prior arrangement.
Attractions
The village Rehov is located in the spring valley between the Gilboa and the Lower Galilee, and its name is - and it is full of springs. It is a beautiful area all year but especially during the winter and spring, so it is green and blooming all around.So here are some of the suggestions that we have gathered for you: The Valley of the Springs, a long trail that can be explored in short sections, you can see amazing rashes, migrating birds and dipping in the springs we pass along the way.The popular Gan Hashlosha (the Sahne), the spring park with three water sources and can be traversed by foot, bike or electric vehicle, can be rented out there. Goro Park - a unique park with animals from Australia, and a wide variety of places. Of course you can enjoy rafting in Jordan and bathing in the Kinneret which is half an hour away where you will also enjoy water sports, horseback riding, ATVs and more, enjoy a stunning area that offers lots of attractions for any type of vacation.
חשוב לדעת
חצי שעה מחמת גדר
Booking Conditions
click here
facilities
Reviews on Pninat Hamaayanot
Reviews were written by visitors who stay us a guest in
Pninat Hamaayanot
Found a mistake on the pag Pninat Hamaayanot?
click here