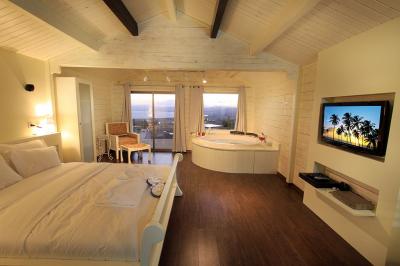 About Us
Nofay Gamla - You have not seen such a landscape yet ...
An indescribable atmosphere of freedom, spacious and romantic log cabins, private privacy and a magnificent panoramic view, one that leaves no one indifferent to it ... You will find all this at the Nofay Gamla, the place that becomes a dream ...With a view of the Sea of Galilee, there is the settlement of Ma'ale Gamla, where the two charming wooden cabins were built, located right on the city's magnificent landscape.Each cabin has a private balcony and views directly to the open and magical space with seating and a garden table.
The Cabins
The panoramic view also penetrates the single face, with especially large panoramic windows that can be viewed to the distance and by large shading curtains will preserve your privacy and intimacy.In each unit you will enjoy a spacious, large cabin, decorated in white and with parquet floors. A luxurious double bed made of quality wood, with an LCD screen with yes channels, a DVD player, bathroom, an intimate dining area and a fully equipped kitchenette including electric kettle, microwave and more.In the corner of the cabin, next to a huge window, was a round, pampering losie, wrapped in wood with comfortable headrests and direct view of the landscape.The Foreign CompoundIn the courtyard of the units you will enjoy a large open lawn overlooking the entire magnificent landscape, a swing hidden in the garden's vegetation, a special wooden bridge leading to the seating areas and decorative accessories scattered throughout the space.
View from the compound
In the courtyard of the units you will enjoy a private balcony for each, and seating areas that directly overlook the view of the Sea of Galilee and the Golan and are scattered throughout the garden.
Include hosting
Fine wines, chocolates, spa shoes, beers, soft drinks, pastries and toiletries.extra chargeYou can enjoy a delicious Galilean breakfast in advance.Pampering treatments and massages to soothe the body and soul in advance order.
Location
In the vicinity you will find a variety of attractions such as horseback riding, hiking, hiking trails, tourist attractions, astar tours, jeeps, ATVs, bicycles, Kinneret, Luna Gal, Gamla and more.
חשוב לדעת
*הזמנות ביום שבת בכפוף לאישור המארח- בתוספת תשלום לעלות של סופ"ש.
Booking Conditions
click here
facilities
Reviews on Nofay Gamla
Reviews were written by visitors who stay us a guest in
Nofay Gamla
Found a mistake on the pag Nofay Gamla?
click here