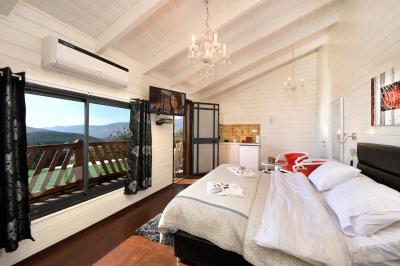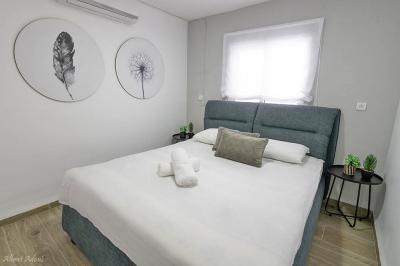 About Us
Meromi Hazon - A pampering area in an amazing rural atmosphere with a mesmerizing view
On the slopes of the Lower Galilee in Moshav Hazon, the well-kept holiday resort of Romi Hazon has 2 luxurious guest rooms, separated from one another, each with its own private garden. One is a luxurious wooden chalet decorated in a rustic style, with a private heated pool and covered in the winter for a romantic or family vacation. The second is a "Bayit Vegan" guest unit, which includes two spacious bedrooms, a large living room and a well-equipped kitchen. . The wooden cabin is built as a two-story bungalow with two suites that can be booked for a romantic couple vacation, a vacation for two couples or a family vacation, you will choose !! The owner gives guests a standard of high standard accommodation, luxurious 5-star accommodation in front of enchanting green landscapes in a beautiful area full of attractions.
The designed and luxurious suites and the pampering guest unit
In the pampering area you will find a beautiful wooden cabin with 2 floors in a charming rustic atmosphere. As soon as you enter it you will feel the feeling of freedom and tranquility and a pampering guest unit that includes two spacious and beautiful bedrooms and a very uncompromising hospitality with a variety of treats and surprises.The luxurious wooden cabin - on the entry level you will find a corner with a sofa that opens to a double bed, a 42 "LCD screen connected to a full HD TV channel, there are two bedrooms: in one room enjoy a double bed and in the second room for children enjoy the two sofa beds A double bed for each room has a 32 "LCD screen and satellite TV. A bathroom is located between the 2 rooms. Kitchenette equipped with large refrigerator, microwave, electric hob and electric kettle.On the top floor is a pampering bedroom with a large double adjustable bed and a pampering double Jacuzzi that also serves as a rain shower cabin. In the room there is also a kitchenette equipped with NESPRESSO coffee machine, coffee capsules and milk foams for making espresso, upside down, ice coffee and more ..The bedroom on the upper floor, which also serves as a separate suite from the lower floor, has a private balcony with a sitting area facing the amazing view. The suite has a separate entrance (for couples who have a second entrance from the lower floor) and an exit to the yard.The guest unit "Bayit Vegan" has two large bedrooms, one of which is a master bedroom with a large double bed, an LCD screen with a YES connection, a designed armchair, a wardrobe and a beautiful dresser, the second bedroom has two single beds for children, A large pampering living room with 2 armchairs and a sofa that opens when needed. In addition to an additional LCD screen connected to the satellite channels, the guests also have a fully equipped kitchen including: a large fridge, microwave, electric hob, electric kettle, coffee / tea corner, Family.
The pampering pool complex
In the garden courtyard of the magnificent wooden cabin you will find a swimming pool surrounded by thin wood and around sunbeds, hammocks, luxurious garden furniture, shaded seating areas. With a pampering night light, the pool is heated and covered in winter, and our guests also have a barbecue (not on Shabbat).In the well maintained yard of the hospitality unit, Bayit Vegan you will find a large private pool, barbecue area and comfortable and fun seating areas, pampering sun beds and a pleasant swing. The yard is large and green with rich greenery and includes beautiful wood paths and privacy for the vacationers.
Hosted
Home honors: fine wine, cakes, seasonal fruits, soft drinks, chocolates, coffee capsules, coffee kit, tea, fresh milk, and more treats ...In the suite: white bathrobes, high quality bath towels, face and hand towels, spa shoes toiletries: shampoo, conditioner, soaps.extra charge:In advance you can enjoy a kosher breakfast, a variety of massages, and if you have a joyous occasion to celebrate with your loved one, you can order an ornament and arrangement for a guest house.
attractions
The "Meromi Hazon" complex, located in Moshav Hazon, is close to the city of Carmiel. You can go to a variety of interesting attractions of all kinds, from trips, ATVs, riders, horseback riding to hiking trails. You can visit the Mini Golf and Paintball 10 minutes' drive or to the shores of the Sea of ​​Galilee in 25 minutes, you can also enjoy good restaurants and bars in nearby Carmiel or in picturesque Rosh Pina, about 15 minutes away, for wine lovers - wine tours and tasting in a variety of vineyards in the Upper Galilee. Enjoy a dreamy and luxurious holiday that will give you a perfect package of high-quality hospitality and all the heart and fun attractions for all types of vacation, romantic or family, peaceful or excited just choose.
חשוב לדעת
לא ניתן להתקשר בשבת.יש לול בקרבת המתחם.
Booking Conditions
click here
facilities
Reviews on Meromi Hazon
Reviews were written by visitors who stay us a guest in
Meromi Hazon
Found a mistake on the pag Meromi Hazon?
click here