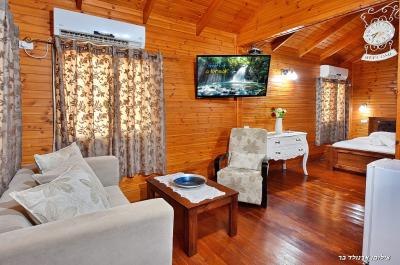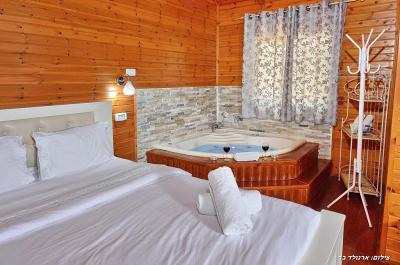 About Us
Biktot Ma'ayanot Ha'ahava - A well maintained garden with citrus fruits and swimming pool!
Do you know that the rural atmosphere fills all the space? That the air feels pure and enveloped in magical romance? You will find all these in the springs of love springs, located in the spring valley opposite the views of the Gilboa and the Gilad mountains! Two beautiful wood cabins, rustic and romantic design with a beautifully landscaped yard and a refreshing summer swimming pool.
The romantic cabins
The two cabins are spacious and well equipped, with a large wooden sleeping bed. Next to it you will find a large luxurious Jacuzzi, wrapped in a wooden platform and ceramic wall, LCD screen, intimate sitting areas, romantic lighting, bathroom with shower head shower, , A fully equipped kitchenette including a new espresso machine, kettle, pans, cooker, microwave and more, and a private balcony for each cabin with seating areas and a comfortable and comfortable hammock.
Foreign Compound
In the outer compound, you will notice meticulous and well-groomed cultivation, every stone is placed in the place and every tree gives the place an atmosphere and a wonderful fragrance.A cool, refreshing pool wrapped in thin wood, covered and surrounded by a matching wooden fence, is located in the heart of the garden, surrounded by tall trees. A thin path leading to the cabins, a romantic evening lighting, fruit trees, a wooden swing, a barbecue, a wide lawn combined with ashlar stones and synthetic grass, and all this is enclosed by a high quality wooden fence with an entrance gate that gives full privacy and intimacy.
Include hosting
Instead you will enjoy toiletries, fragrant soaps, soft towels and a bottle of cold milk.
Additional charge
By appointment you can enjoy a refreshing, refreshing, continental breakfast served directly to the cabin.Professional treatments and massages by qualified massage therapists in advance order and separate payment.
Important Information
For the religious public:A kettle and a Shabbat platter can be provided, the synagogue is nearby.It is forbidden to operate a barbecue on Shabbat.* Do not call on Saturdays and holidays.
Booking Conditions
click here
facilities
Reviews on Biktot Ma'ayanot Ha'ahava
Reviews were written by visitors who stay us a guest in
Biktot Ma'ayanot Ha'ahava
Found a mistake on the pag Biktot Ma'ayanot Ha'ahava?
click here