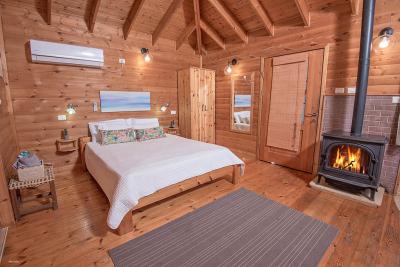 Peace with private pool overlooking the Sea of Galilee dream.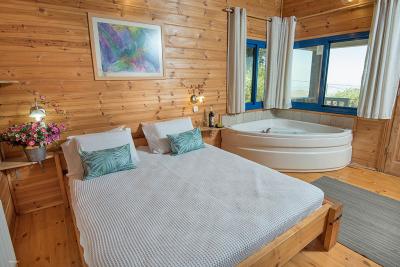 The perfect vacation for 2 couples!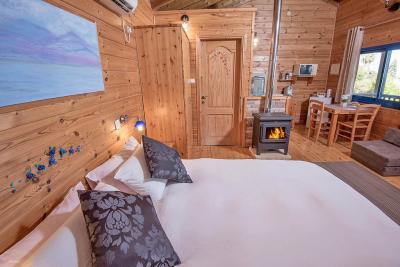 The perfect vacation for 2 couples!
About Us
Nofesh bapisga - A quiet and wonderful holiday with private pools facing a dreamy view of the Sea of Galilee
The picturesque moshav Schaefer is a wonderful place to be, especially if you are an avid fan of nature and landscape, love a good culinary and seek a rural and intimate place to enjoy it together with the couple. Here in the heart of natural groves, our complex is located, offering 3 cabins facing an impressive panoramic view of the entire Sea of Galilee. Two of the cabins offer a common garden area with a dream pool while the third is a spectacular suite with a private garden including a luxurious pool and spa jacuzzi.
An inside look
In the dream suite you will enjoy an extra large open space bedroom, giving you a sense of space and freedom. You will also enjoy a large comfortable king size bed, air conditioning, private Jacuzzi, fireplace, dining area, fully equipped kitchen, balcony of your own in front of a spectacular green view. You will also enjoy a private pool with Jacuzzi and a pampering private spa!In our cabins you will enjoy a private Jacuzzi, a comfortable double bed, a fully equipped kitchen, dining area, toilet and shower. In the garden ♥ complex you will enjoy sitting areas, a barbecue area, a balcony, a huge shared swimming pool and a magical view
Garden area and attractions in the area
The location of the complex in Moshav Sheffer allows for a unique observation point from the mountains of the Upper Galilee to the Golan Heights! From here you can see the Shefer Forest, the nearby natural groves and the Sea of Galilee. In the outdoor area you can enjoy a particularly well kept garden, with an impressive barbecue area, a huge clear and refreshing swimming pool, a spa Jacuzzi, all in a special country design. Facing the magnificent view of the Upper Galilee.Surrounding you are the spectacular forest and river Shfar - amazing for a romantic trip and a picnic in nature, plenty of field trips in ATVs, jeeps, horseback riding, a selection of restaurants, fine wineries and a lovely view that accompanies the experience all along.
Include on vacation
Accommodation + hot drinks and milk kit, capsules, soaps, chocolates, mineral water.
Meals
By appointment can be booked delightful breakfast that includes omelets, cheeses, breads, salads, juices, mineral water, also can order dinner.
חשוב לדעת
*מתחם הסוויטה - מגודרת,פרטית וצנועה. כמו כן קיימת נגישות לנכים.עם בריכה פרטית מחוממת ומקורה*במידה ומזמינים שתי יחידות- אין להזמין בקתה(1/2) וסוויטה. -ניתן להזמין רק את בקתות 1+2. *לא ניתן להכניס בעלי חיים למתחם התשלום מתבצע במקום! - כרטיס אשראי שמוזן באתר הינו לביטחון ובדיקת תקינות הכרטיס בלבד.
Booking Conditions
click here
facilities
Reviews on Nofesh bapisga
Reviews were written by visitors who stay us a guest in
Nofesh bapisga
Found a mistake on the pag Nofesh bapisga?
click here