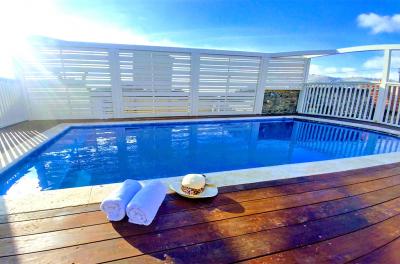 Each cabin Enjoy the large double bed, high-quality, round Jacuzzi and romantic, LCD 42 'satellite channels, including technology watching HD projector strong voice, a seating area down into a double bed if necessary, a fully equipped kitchenette with seating a family dinner, mini bar, microwave kettle, coffee and utensils. From here you can go out to a private balcony with seating area indulging in the fresh air. In the complex enjoy large and luxurious pool (diameter 6) suitable for summer days, sun beds and environment comfortable accommodation areas, a large barbecue area, swings, large eating tables and shaded lawns, fruit trees, beautiful lighting and romantic evening.
About Us
Avivim La-Ohavim - בקתות עץ רומנטיות עם בריכת שחייה מפנקת בלב גן מטופח!
In the community of Avivim in the heart of the spectacular mountains of Galilee there are 3 amazing country chalets overlooking a beautiful mountain landscape.A perfect love and recreation celebration in a breathtaking Galilean setting!In the romantic wooden cabins you will find a pampering double Jacuzzi, and in the yard there is a heated and pleasant swimming pool. The place is suitable for couples and families who want to spend a peaceful and tranquil place.
נוף מהמתחם
From here you can look out over the spectacular hills of Galilee and the largest fruit orchards scattered around.
הבקתות המפנקות
Each cabin has a modern and romantic design, a large double bed, a round and intimate Jacuzzi, a 42 "LCD screen with satellite channels, HD viewing technology and a powerful sound projector, a double bedside bed if necessary, a fully equipped kitchenette including a family dining area, Bar, espresso machine, mini bar, microwave, kettle, coffee corner and kitchenware.From here you can head out onto a private private balcony with a seating area in the fresh air.In the garden complex you will enjoy a large and pampering pool (heated in April-October) with a Jacuzzi bench and a unique waterfall, with sun beds and comfortable guest areas, a large new barbecue area, a professional ping pong table, swings, large shaded dining tables, lawns, fruit trees , Beautiful evening lighting and romantic.
כלול באירוח
A bottle of fine wine, a full hot drink set, seasonal fruit, body towels, bath lotions, bath foam, Dead Sea bath salt, beauty shower.Additional chargeA rich country breakfast will be served to the cabin in coordination with the hosts.We will be happy to arrange for you a pampering massage in any style of your choice.
מיקום
Quick access to the best attractions in the Galilee: the Manara Cliff, Rosh Hanikra, the Haier Lake in Byron, the famous kayak sites and the region's rivers, a variety of hiking or biking trails, quality restaurants, jeep tours, ATVs, riders, horses and much more!
חשוב לדעת
You can not make a barbecue and play strong music on ShabbatEntry to animals is forbidden.* The pool is heated between April and October.Extra Breakfast Price 150 NIS per coupleExtra price per child - 100 NISExtra price per adult - 150 NISExtra price for late departure - 200 NIS
Booking Conditions
click here
facilities
Reviews on Avivim La-Ohavim
Reviews were written by visitors who stay us a guest in
Avivim La-Ohavim
צפייה בכל חוות הדעת
Find out attractions and restaurants near Avivim La-Ohavim?
click here
Found a mistake on the pag Avivim La-Ohavim?
click here