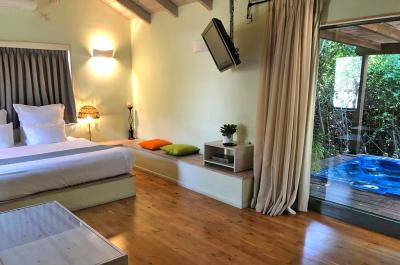 Romantic celebration seat Ailniih spectacular, with open views and mesmerizing to the outskirts of Galilee.
Romantic celebration seat Ailniih spectacular, with open views and mesmerizing to the outskirts of Galilee.
About Us
Arba Onot BaGalil - Holiday complex romantic and beautiful front view, with pool and Jacuzzi spa dream big.
Experience a spectacular picturesque "the height" seat Ilania, gradually built entirely and allows observation dreamy landscapes of Galilee."Arba Onot BaGalil" offers couples and families stunning 4 cabins, built inspired by the seasons. Two cabins (cabins fall and spring) reddish tones reminiscent of the seasons in transition and the other two (winter and summer cabins), offering a hot tub and a private spa for each heater.Offers spectacular park in 5 acres (!) Of a rich and varied vegetation, stone terraces, pastoral areas and a variety of ornaments. At its heart is a circular pool facing the view and side indoor Jacuzzi spa for 8 vacationers.In addition, you will enjoy children's play facilities such as a ping-pong table and basketball, from an air-conditioned dining room with fully equipped kitchen and outdoor amenities.Moshav Ilania located near the Golani Junction and ensures immediate vicinity variety of outdoor activities and hiking trails, rivers, bike trails and restaurants.
View from the complex
Moshav Ilania is located on the outskirts of Galilee and over the ridge leading to the magnificent Sea of Galilee. The view from it expects to agricultural fields envelop the region bordering the surrounding mountains.
Winter
Zimmer spa experience "Arba Onot BaGalil" ideal for all winter vacation, when private spa Jacuzzi available in two of the cabins and a huge spa Jacuzzi and an indoor garden center for all guests.
Include hosting
A mini bar with cold drinks, premium wine, espresso machine, coffee corner with coffee, sugar, tea infusions, nuts, seasonal fruit, homemade cake and a spa kit including soft bathrobes, quality bath towels, spa shoes and candles.Special events (birthdays, marriage proposals, etc.) will be added with balloons and a symbolic gift with a beautiful blessing.
Meals
By appointment can be ordered specially rich breakfast that includes a variety of high-quality cheeses, Rolled eggplant pasta, pastries, salads and more.
חשוב לדעת
** בחגים, יולי ואוגוסט המתחם נמכר באופן מלא בלבד!!!** בחגים ראש השנה, סוכות, פסח, ניתן להשכיר את כל המתחם!!
Booking Conditions
click here
facilities
Reviews on Arba Onot BaGalil
Reviews were written by visitors who stay us a guest in
Arba Onot BaGalil
Found a mistake on the pag Arba Onot BaGalil?
click here