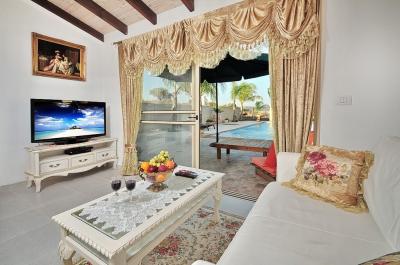 Private and luxurious experience in Galilee
About Us
Ahuzat Alin - Perfect Pampering
The exclusive "Ahuzat Alin" is located in "Me'ona" in the western galilee, between Nahariya and Ma'alot and surrounded by galilee nature.With elegant design and high class furniture "Ahuzat Alin" invites you particularly to perfect pampering in a luxury suite ,private and romantic. large private garden with a huge swimming pool alongside Jacuzzi spa streams elaborate.The suite is completely private here, and is suitable for couples and families, standing in the green groves and includes more interior room for children and other guests. The suite ideal location gives the right choice for tubular wide variety of the finest attractions.
In suite
The suite waiting for you a large double bed and luxurious with orthopedic mattress, LCD 42 ', connecting channels HOT, luxury bathroom, fully equipped kitchen, espresso machine, living quality and a seating area upscale side sliding window a huge viewer directly to the pool, through which you can go to the park in private where you'll find a swimming pool and luxurious tiled mosaic includes unique waterfalls and whirlpool currents linked, high-quality seating, a barbecue and the foliage is invested and well maintained.
Experience luxurious and prestigious winter
Planning Suite and the design is done with much thought to stay in the winter, when the region rainy and sometimes snowy so you can spend a lot. So enjoy the garden suite luxurious spa Jacuzzi powerful and heated to 40 ° C. Luxury feather bedding and winter treats including hot drinks, chocolates and bathrobes pampering.
Emphasis on the spot
By appointment you can get luxurious breakfast will be served to you directly in the suite or the pool, as well, you can set up professional massages and pampering in any style you choose. In addition, you will get a variety of treats, a bottle of fine wine, seasonal fruit, chocolates, biscuits, mineral water and hot drinks kit.
Location
Session tortured in the vicinity of a variety of hiking trails intriguing, therefore suite location is centrally located in the western Galilee. A variety of interesting excursions such as; Tours streams, springs stalactite cave located at the exit from the seat, ATV, horse, jeep, bike, visit the tourist sites are based, Lake Montfort, Rosh Hanikra and qualified chef restaurants.
Important Information
An additional NIS 150 for a childFor an additional NIS 150 A.bokr
Booking Conditions
click here
facilities
Reviews on Ahuzat Alin
Reviews were written by visitors who stay us a guest in
Ahuzat Alin
Found a mistake on the pag Ahuzat Alin?
click here