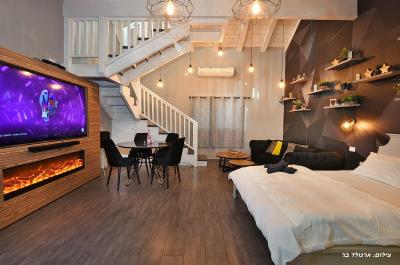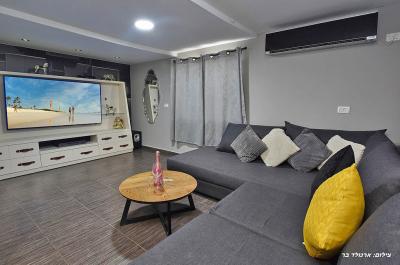 About Us
Yuval Estate - Romantic estate, invested in the Galilean landscape. With a heated pool and a pampering hot tub
Yuval Mansion - If you were looking for a romantic and quiet place, this is exactly what you were looking for.The estate is located in the Upper Galilee spring, facing breathtaking pastoral views.In the relaxing complex you can enjoy a variety of treats including a heated pool during the cool winter days, and a particularly pampering hot tub.The complex has two private, spacious, and luxurious accommodation units, with a cozy and relaxing design that is also suitable for couples who like to relax and unwind, as well as families and groups celebrating the happiest moments in life.
The interiors of the units
The Yuval Mansion boasts two spectacular and inviting units, in each unit you will find extremely luxurious beds, air conditioning, fully equipped kitchenette: fridge, electric kettle, espresso machine, tea and coffee making facilities, all serving and cooking. You will also find a fancy bathroom, multiple seating areas and especially a host of treats that will not leave you indifferent.* In the upscale suite (Roy Suite) you will find two floors and a rich and luxurious interior area such as a romantic double Jacuzzi and a private deck overlooking the Galilee view.
The garden area
On the outside of the complex, you can enjoy a large, heated heated pool, and is especially suited to the cold winter days and a pleasant environment to complete the atmosphere. The wide-equipped courtyard area contains many comfortable seating areas, innovative tanning beds, an inviting and comfortable barbecue area next to a relaxing and cozy swing, to complement an additional seating area and LCD TV adjacent to a cozy, relaxing and pampering hot tub.
Included in the accommodation
In advance, you can enjoy a pampering and rich breakfast at extra charge.In addition, by prior arrangement and additional payment, you will receive treats such as: seasonal fruits, crackers, coffee machine capsules, fine wine bottles, chocolates, ice creams, milk, bathrobes and toiletries and cosmetics.You can also order pampering treatments and massages in advance.Arranging the villa for special occasions such as, bachelor / bachelorette parties, birthdays, and family celebrations.
אטרקציות בקרבת מקום-
אחוזת יובל הנמצאת בסמוך לאתרי אטרקציות רבות ומגוונות בצפון דוגמת טיולי טרקטורונים, טומקארים, טיולי סוסים, מסלולי טיול רבים המתאימים גם למשפחות וכמובן מסעדות רבות.
היחידות
* סוויטה רוי- הסוויטה המלכותית והיוקרתית בה תוכלו למצוא שני חדרים במפלסים שונים,בקומה התחתונה של הסוויטה תפגשו במיטה זוגית נוחה ומפנקת במיוחד שלא תרצו להרים את הראש, שבצידה שידות ותאורת לילה רומנטית. פינת ישיבה מודרנית המעוצבת בטוב טעם, טלוויזיית LCD  המחוברת לכבלים (HOT), ג'קוזי ספא זוגי חדשני ומפנק, מטבחון מאובזר היטב המכיל: קומקום חשמלי, מקרר, מכונת אספרסו ופינת תה קפה, וכלי הגשה ובישול. מיזוג אוויר בכל רחבי הסוויטה, אינטרנט אלחוטי, פינת אוכל רומנטית ונעימה.. חדר רחצה חדיש ומהודר. בקומה השנייה תמצאו מיטה זוגית מפנקת נוספת, פינת ישיבה נעימה וגולת הכותרת.. מרפסת פרטית המשקיפה אל נוף גלילי מרהיב במיוחד.*בבקתת הילי- הבקתה המקסימה והנינוחה הבנויה כמפלס אחד מפנקת נעימה ופרטית במיוחד. בה תוכלו למצוא גם כן, מיטה זוגית מפנקת ולמולה ג'קוזי זוגי פינתי נעים ומלטף שישאיר אתכם רגועים לאורך כל החופשה, מסךLCD  המחובר לכבלים, אינטרנט אלחוטי, חדר רחצה מטופח, מטבחון מאובזר בטוב טעם במכונת אספרסו, מקרר, קומקום חשמלי, מיקרוגל, ופינת תה קפה.
Booking Conditions
click here
facilities
Reviews on Yuval Estate
Reviews were written by visitors who stay us a guest in
Yuval Estate
Found a mistake on the pag Yuval Estate?
click here