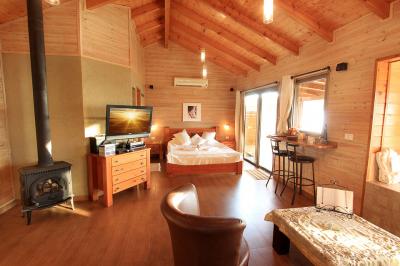 Each suite will enjoy from the bed of a large tree (1.90 / 1.60) wrapped in bedding bright, large and luxurious Jacuzzi facing the spectacular scenery, romantic fireplace cold winter days, the LCD viewing screen 32 'is connected to the satellite (yes), home theater system, a stylish seating area , Bathroom cozy bar decorated tables and high bar stools, a spacious kitchen. Private garden each suite Enjoy wooden deck height with the seating area in front of the panoramic view, swimming currents greater with massage functions elaborate, heated and covered in winter (40 ° C), translucent windows that surround the pool on all sides and adjustable at the touch of a button, beds and shell sun, hovering hammock, lawn and ornamental plants upgrades and well maintained, barbecue and colored lighting and a romantic dinner.
About Us
Tzok Gamla - נופש מפנק מול נוף קסום
After looking at many hosting complexes, we can tell you with certainty: We have not seen one yet.Two luxurious suites are designed (non-linked), inviting couples to enjoy exciting vacation, in full privacy in front of a wild landscape to all areas of the Sea of ​​Galilee and the mountains Golan you can not take away the look.The interior experience in the suite offers a very generous hospitality that includes no less than 4 bottles of wine, a plethora of delicious treats await you in the living room and the kitchenette and hospitality above and beyond expectations.A variety of activities for your enjoyment in the immediate vicinity: bicycle trips, ATVs and jeeps, horseback riding, Gamla Nature Reserve, a special eagles view, a variety of hiking trails, historical sites, fine chef restaurants and more.
נוף מהמתחם
Panoramic bird's-eye view to all the region of Galilee, combining the Golan Heights from across the nearby fields and orchards surround the area.
חורף חם ברמה גבוהה
Each suite offers its guests a large and luxurious Jacuzzi, well heated and private in the suite facing the magical view.Within each suite you have a minibar full of treats, hot drinks and warm down duvets.
כלול באירוח
B + four bottles of wine from the Golan Heights Winery, soft drinks, fruit salad, fine chocolates, nuts, fluffy bathrobes, slippers and luxurious, high quality towels, toiletries and lotions.
ארוחות
By prior arrangement, you can enjoy a rich breakfast goodies, served in front of the wonderful scenery.
חשוב לדעת
אין בריכת זרמים חיצונית במתחם
Booking Conditions
click here
facilities
Reviews on Tzok Gamla
Reviews were written by visitors who stay us a guest in
Tzok Gamla
צפייה בכל חוות הדעת
Find out attractions and restaurants near Tzok Gamla?
click here
Found a mistake on the pag Tzok Gamla?
click here