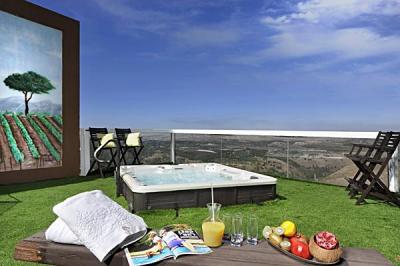 About Us
Ahava Bagvahim - About us
The spectacular resort complex "Ahava Bagvahim" is set in Kerem Ben Zimra, with a view of snow-covered Mount Hermon and the green Galilee mountains, in a pastoral heart and at the highest point in the community.Mona compound 3 suites facing the edge of a cliff and overlooking the spectacular scenery infinite.The suites tastefully decorated and share a compound except groomed with a Jacuzzi spa large and luxurious, large swimming pool is heated and going on- a jets robust body massage, a landscaped garden and green seating quality and shaded, sun beds, hammocks strewn all, the view magical of Galilee.
The suites
The three suites our magical stone structure covered with a combination of good wood, where you will find a very comfortable double bed, a large rectangular hot tub overlooking a tree covered landscape, Wardrobe, Wooden chests compatible LCD screen with TV connection YES, home theater, multimedia system with an Internet connection, a dining area decorated, romantic fireplace and winter, a luxurious bathroom and a fully equipped kitchenette that includes a modern espresso machine.Compound outside waiting for the real delight your BBQ is large and spacious, upgraded and well maintained, fully shaded seating areas and surprises vegetation green and Galilee landscape breathtaking, also enjoy a heated pool with jets massaging the body with roofing winter full environmental scattered sun beds and hammocks, later the site stands a huge spa Jacuzzi and outdoor shower.
Include hosting
Seasonal fruit basket, a bottle of fine wine, milk, homemade cake, chocolate, treats home and bath set includes: Bath salts and flowers, bath robes, spa slippers and scented candles.By appointment you can order breakfast rich and varied.
Location
Due to the high position of the seat, on cold winter days you can enjoy snowy white right at the entrance to your door.The moshav is located near Safed and Rosh Pina and lookout overlooking Mount Hermon straight, so you can enjoy a variety of routes such as; Mount Meron, Gush milk, Baram Forest, Nahal Amud and more ..In addition, plenty excursion sites and various attractions, restaurants, cafes and entertainment venues are available.
Booking Conditions
click here
facilities
Reviews on Ahava Bagvahim
Reviews were written by visitors who stay us a guest in
Ahava Bagvahim
Found a mistake on the pag Ahava Bagvahim?
click here