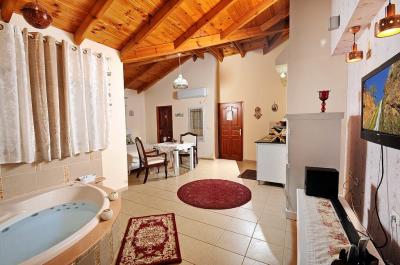 Perfect romantic holiday at the Sea of Galilee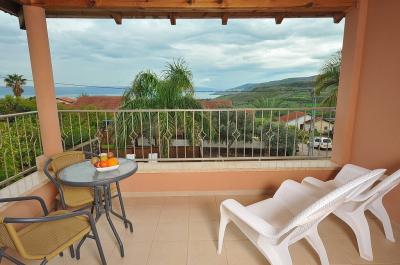 Perfect romantic holiday at the Sea of Galilee
About Us
Zriha Ba-Kinneret - Zriha Ba-Kinneret
Charming picturesque resort facing the Sea of ​​Galilee, which includes two suites immersed in green, decorated and equipped and overlooking the gorgeous scenery.The complex is suitable for all types of vacationers as one of the suites is a second double and a family, rustic-style romantic and exquisite furnishings and household luxuries.You can reach two couples or a large family and enjoy luxurious private compound all of you together!Landscaped garden complex of the "Zriha Ba-Kinneret" offers a beautiful swimming pool, whirlpool spa and sauna quality.Moshav Livnim near the shores of the lake are many walking trails and amazing water sports activities on Lake Kinneret, exciting area attractions, shopping and entertainment complexes nearby Tiberias and many fine restaurants. The restaurant chef is considered the seat itself.
View from the complex
Zriha Ba-Kinneret" is facing a beautiful view of the Sea of Galilee, the Golan Heights and Jordan".Around the compound and picturesque road leading to it, you will meet in the fields and orchards, pastures and groves are spectacular.
Winter
Winter experience of the complex offers excellent winter pampering Jacuzzi spa and sauna garden area, a large indoor Jacuzzi and luxurious, linen Winter Heat and hot drinks.
Include hosting
Accommodation + bottle of wine, seasonal fruits, mini bar, chocolates, cookies, hot drinks, . Bathrobes, body towels, bathroom cosmetics, soaps, scented candles, incense.On Friday, Hanna host prepares a special cake for you.
Meals
By appointment you can order breakfast luxurious.
Booking Conditions
click here
facilities
Reviews on Zriha Ba-Kinneret
Reviews were written by visitors who stay us a guest in
Zriha Ba-Kinneret
Found a mistake on the pag Zriha Ba-Kinneret?
click here