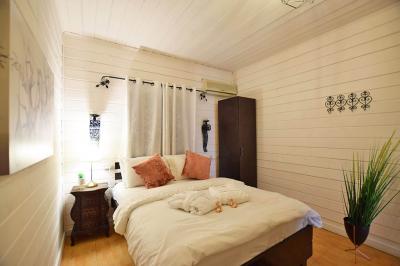 Glow cabin - a luxurious double cabin with a large indoor Jacuzzi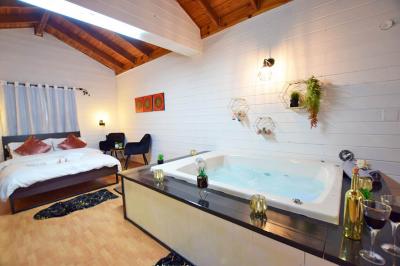 Purity cabin - a large family cabin with a private Jacuzzi
About Us
Glow of memories - A pampering complex in Moshav Goren with two magical wooden cabins, a large pool and a pampering spa Jacuzzi
In Moshav Goren in the Western Galilee, a rustic and pampering complex has been established with two charming and special wooden cabins.With a large swimming pool and outdoor spa hot tubs, the place is suitable for families and couples looking to enjoy all the best of the Galilee.In the area you will find a variety of employment and fun attractions, including hiking and walking trails, dreamy landscapes, magical beaches - romance, nature and relaxation.
Cabins -
In the pampering complex you will find two magical wooden cabins, identical in design but different in design. A glow hut and a purity hut.In the double glow cabin you will find a luxurious double bedroom with a large, high-quality double bed, a storage closet, an LCD TV connected to YES cables, a designed shower and more.A purity cabin is built as one open space where you will find the double bed and the rest of the contents of the cabin, and a separate children's room.Each of the cabins has a private and round indoor Jacuzzi, specially designed and romantic, a dining area and a seating area, a pampering kitchenette equipped with the necessary equipment, next to it comfortable and pampering seating that overlooks a quality TV.The Tohar hut has another bedroom with two cots, as well as a TV.Each suite has a private balcony with a wooden deck with a luxurious and pleasant seating area.
The garden area
In the outdoor area common to the two cabins you will find a particularly luxurious swimming pool, large and pleasant. (10 X5)The whole yard is fenced and overlooks a green landscape.The pool is surrounded by a large lawn, with comfortable sun beds, comfortable armchairs in a shaded area.In the yard there is a large and high-quality whirlpool spa whirlpool (for 6 people), with plenty of pampering, shady and cozy.In the courtyard area you will also find a shaded pavilion with an outdoor dining table, a bench, a large comfortable hammock for lying down, a barbecue area and more.
Include on vacation
Towels, bathrobes, toiletries, shampoo.Wi-Fi, air conditioning and various treats from the hosts.
Meals and massages
Pre-booked treatments and massages at an additional cost.By prior arrangement with the hosts and extra charge you will receive a sumptuous country breakfast.
חשוב לדעת
לא ניתן לעשות מנגל בשבת במתחם
Booking Conditions
click here
facilities
Reviews on Glow of memories
Reviews were written by visitors who stay us a guest in
Glow of memories
Found a mistake on the pag Glow of memories?
click here