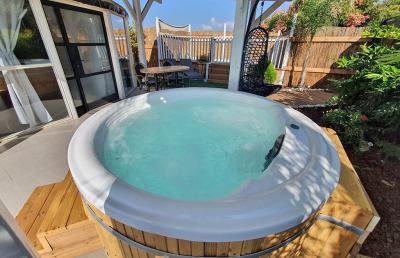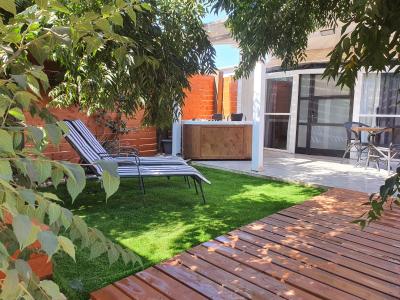 About Us
Zohar Ve'Michelle - A romantic and luxurious vacation in a perfect location
New New Compound! Romantic and pampering opened in November 2018In the north of the Golan Heights in a perfect location, just 10 minutes from the top of the Hermon, Moshav Sha'al is located in the new and modern "Zohar and Michel" complex, 3 pampering suites in contemporary design in a circular Mongolian jort structure.The complex offers a large variety of couples' treats, including a cycling trip in the fields adjacent to the settlement. You can upgrade it with a romantic picnic basket and a pre-arranged romantic experience that you will not forget.Each suite has a private garden area with a luxurious, well-kept garden with seating areas, a comfortable hammock and a barbecue corner.** New - In the West Suite you can enjoy a pampering jacuzzi spa in the courtyard and a private swimming pool for a couple.
An interior look for romantic yurts
The complex consists of 3 pampering suites built in a Mongolian yurt, a quality ecological structure that meets all the weather conditions, a circular structure that allows for a good flow of energy and once you enter it you will feel it, a good atmosphere and a large open space equipped with a variety of treats.Each suite features a comfortable queen-size bed covered in soft white sheets with cozy and caressing blankets, each with a 55-inch LED display with yes channels that can be viewed from anywhere, a suite, two comfortable, high-quality sofa beds for children, For a perfect winter treat, and a double dining area. Each suite has a fully equipped kitchenette including a Nespresso machine and of course the suites are air conditioned and have Wi-Fi connection.* In the west suite there is a heated wood fireplace, a perfect winter treat for the cold winter days and a connection to Netflix.
winter
The settlement of Sha'al is located very short distance from the summit of Mount Hermon at an altitude of 800 meters above sea level, so that in the winter months you can also enjoy the romantic white snow and the Hermon snowy mountains. Outside it will be cold and warm in the hot bubbly Jacuzzi. He goes down and covers the yard.In the western suite you can warm up in the garden courtyard in the hot and pampering Jacuzzi spa.
Hosted
In the Zohar and Michel complex you love to pamper our guests. In each suite you will enjoy a prestigious bottle of Golan Heights Winery, delicious house cookies and fine boutique wines, tasty chocolates, snacks, seasonal fruit, milk and coffee capsules. In the bathroom you will enjoy fragrant soaps, bathrobes, soft towels and spa shoes.extra charge:* A complimentary and tasty breakfast can be ordered in the room.* A rich, varied and kosher dinner menu (optional for vegani) .* Room decoration for birthday, anniversary etc.* A variety of treatments and massages.* A romantic picnic basket for a biking or hiking trip in the nearby fields.
Attractions nearby
A tour of a variety of attractions, except for the beautiful and snowy Mount Hermon, you will find a variety of hiking, jeep tours and riders, wine tours and wine tasting, a visit to the chocolate Factory, water attractions in the Kinneret.
Booking Conditions
click here
facilities
Reviews on Zohar Ve'Michelle
Reviews were written by visitors who stay us a guest in
Zohar Ve'Michelle
Found a mistake on the pag Zohar Ve'Michelle?
click here