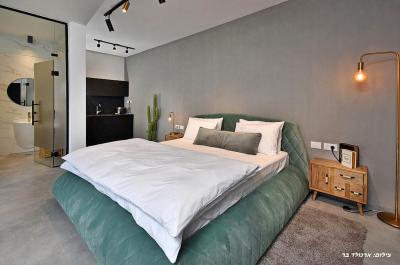 Two dream suites, fully equipped and designed to the highest standard.
About Us
y house - Luxury, luxury, and serenity ... dream suites of a different standard.
New complex - established in March 2021A new and wonderful pleasure complex called "Y House" designed in luxury and true luxury, boasts two magical suites with a particularly high level of finish, designed by the best designers in the country who emphasize maximum cleanliness and comfort, both fully equipped and quiet, boasting a private swimming pool in front of open views.The suites are built with intimacy and privacy, and are intended for couples only for a unique, high-level vacation of pampering in suites that are all good.The complex is located in the special moshav Mishmar HaYarden in the heart of the spectacular Galilee, with magical views and fresh air that will not allow for another peaceful atmosphere. From the complex you can go hiking in spectacular green areas.
The luxuriously designed suites
The Luxury Y House complex has two dream suites, both equipped to the highest standard and designed with high-tech minimalism, in clean and straight lines, exclusive and extremely classic. From the moment you open the front doors until you leave you will not feel anything other than pure uncompromising enjoyment. The suites are built as a large open and clean space, lit with warm LED lighting for a romantic and intimate atmosphere, in the center a double bed in KING SIZE size, with an orthopedic mattress for a restful, stress-free sleep, offered in quality and soft bedding that will contribute to deep sleep and quality time between body and mind.In front of the bed is a 50 "designed TV screen, which stands on a pole that will allow you to rotate the screen 360 degrees, the TV is connected to YES, VOD cables and of course Netflix and wireless internet.Thanks to the full rotation of the TV screen, you can also enjoy watching the pool and the outdoor extension.Each spacious and clean suite has a well-equipped kitchen, starting with Tami 4's water bar, a quality espresso machine of course with Nespresso capsules, microwave, ceramic hob, various kitchen utensils, electric kettle and more. The space is heated or cooled by an air conditioner with innovative air disinfection technology. Each suite has a perfect bathroom, with Italian marble tiles in white marble, the bathroom is surrounded by glass walls through which you can view the outdoor extension. You have quality bath cosmetics, towels and fluffy bathrobes.Each of the "Y House" suites has a closet for storing the guests' personal belongings, a bar table with especially comfortable seating chairs, ornamental plants and works of art in special editions for the complex.
The garden and the private pools
Each of the suites has a private covered outdoor space with a direct access to the private infinity pool, the pool is covered with luxurious and beautiful Italian glass tiles, heated all year round to 36 degrees.From the outdoor plaza you can enjoy breathtaking views of Mount Hermon, the Golan Heights and spectacular orchards.With a well-kept garden with a large lawn, trees and ornamental shrubs and garden furniture from the leading brands.On a day when visibility is good, you can also look at the picturesque windmills in the Golan Heights.* The garden plaza is 100 sqm, first line for an optimal and romantic space for a couple.
Included in accommodation
As befits guests in the luxurious suites, you can enjoy rich and wide refreshments during your stay, ranging from quality Nespresso capsules, a coffee bar, a bottle of fine wine and a pampering package for each guest that includes a hair dryer and a quality iron.
meals
* The pampering couple's breakfasts will be served at Cafe Landover.All types of massages can be booked by prior arrangement and at an additional cost.You can also order chef meals, desserts, special designs for wedding or birthday proposals, car wash service and more.
Important Information
We are committed to a complete match between advertising and reality, well to a level of cleanliness and ongoing international maintenance,We also undertake to disinfect the suite between the guests. We promise you the best - Vacay Quality Time!
Booking Conditions
click here
facilities
Reviews on y house
Reviews were written by visitors who stay us a guest in
y house
Found a mistake on the pag y house?
click here