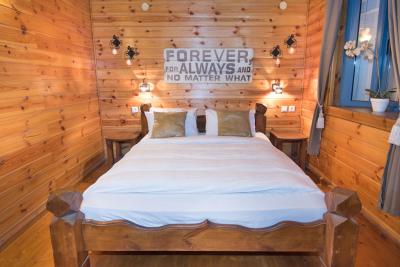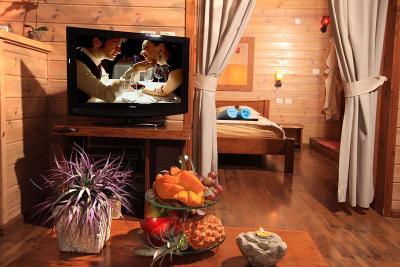 About Us
Cabins Atz Oren - Romantic wooden cabins with a luxurious swimming pool in the heart of a well maintained garden!
The pine cabins know exactly how to pamper your vacation: a perfect location in the desirable Ramot Moshav on the Sea of Galilee and a 3-minute drive from it, a nostalgic and embracing country atmosphere and plenty of treats that no other place can compete with.The green and well maintained complex has 8 cabins in a rustic country design, full of interesting decorative items and impressive wood furniture.A separate bedroom for children, a fully equipped kitchenette, a comfortable double bed, an LCD screen with satellite channels and a private balcony for each unit. In addition, you can enjoy a central swimming pool under the highest quality construction, plenty of space and a spectacular dining room for a variety of delicious meals and treats ...
Location
The shores of the Sea of Galilee are just 3 minutes away! In addition to the nearby area, you will find a variety of hiking trails, scenic views, horse tours, jeeps and ATVs that leave the moshav itself, a variety of restaurants, the Tzemach shopping area, children's playgrounds and more.
The common garden area
A large and luxurious swimming pool, sun loungers and sun loungers, sunshades and a privacy guard, a high quality dining room with rustic dining tables, a large serving buffet, a full-screen LCD screen.The garden is surrounded by planted vegetation, decorative sculptures, trees, a special fish pond, hammocks, a barbecue area (not on Shabbat) and colorful garden lighting.
Additional charge
In coordination with the hosts, you can enjoy a pampering breakfast.Enjoy a range of pampering massages of your choice and special decorations in the cabins.
Important Information
Please do not light a barbecue on Saturday*There is no wheelchair access*
Booking Conditions
click here
facilities
Reviews on Cabins Atz Oren
Reviews were written by visitors who stay us a guest in
Cabins Atz Oren
Found a mistake on the pag Cabins Atz Oren?
click here