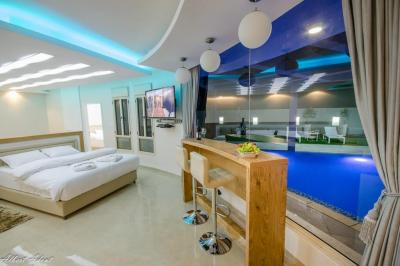 Holiday atmosphere of the good life, with private pool for each suite and secluded location
About Us
Kinor David - About Us
"Kinor David" Counter approximately 2 suites and spectacular located on the threshing floor, beautiful cylindrical seat near known area attractions and activities.The suites are identical, elegantly decorated and spectacular luxurious, stone made building complex and each includes its own huge private swimming pool and luxurious linked short drive away you will find a wide range of attractions and activities that may interest you.
Winter
Offering a perfect fit for the winter, when the private pool of each suite is heated and covered well.In addition - what do you think about double winter?You can reach with another couple friends and enjoy together indoor heated pool and a private and luxurious!
Emphasis on the spot
the pleasure of luxury begins with On arrival, the suite awaits you a bottle of wine, mineral water, milk, coffee, chocolates, biscuits, juices cosmetics and other toiletries. By appointment you can enjoy a delicious breakfast and Goliath suite or by the pool.
Location
Many activities just a short drive most spectacular hiking trails (nearby Goren Park Recommended for families), horseback riding, ATV, Riizrim, jeeps, Rosh Hanikra, Lake Montfort, Yehiam Fortress, fine restaurants around the seat, and more.
חשוב לדעת
תוספת עבור ילד 150 ש"ח.בסופ"ש ישנה הגבלה למינימום 2 לילות אך בדקה ה90 ניתן להזמין לילה 1 בסופ"ש.הבריכות מחוממות מחודש אוקטובר עד חודש מאיאין אפשרות למנגל בשבת 
Booking Conditions
click here
facilities
Reviews on Kinor David
Reviews were written by visitors who stay us a guest in
Kinor David
Found a mistake on the pag Kinor David?
click here