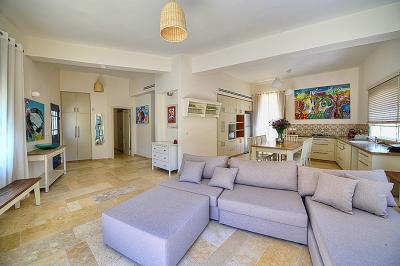 Two bedrooms are furnished, double and decorated in a modern style. Suitable for families. The interior space is particularly spacious. Two double bedrooms, each with a large window, an LCD screen with HOT channels and matching cabinets. Two bathrooms, a spacious living room with large comfortable sofas, a spacious interior space that gives the feeling of home, a large dining area, a well-equipped kitchen and huge windows that surround the place and bring in natural light.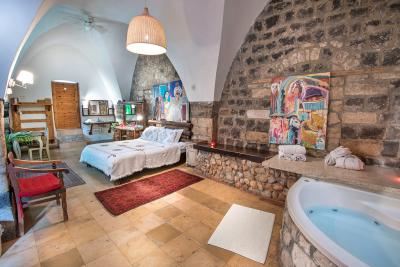 Large and spacious double room, ancient stone structure, with stone walls, stone-covered Jacuzzi and arched ceilings. In the pampering units you will enjoy a pampering and intimate double bed, a nice king size bed, a 42 "LCD screen with HOT channels, a makeup kit with a night lamp, painted wall paintings that add color and art to the place. In the corner of the room there is a corner double Jacuzzi covered with interlocking stones. The units have a ceiling ceiling, beautiful stone walls, flowered vegetation inside the unit, a personal kitchenette and an intimate dining area.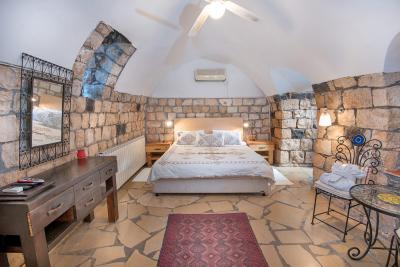 Extra large double room, open space, with enchanting arches ceiling and beautiful stone walls. In the unit you will enjoy a double bed in the center of the room, with two matching chests and intimate night lamps, colorful art paintings, a ceiling fan, a Komodo with drawers and a well-designed mirror and a tea and coffee corner. In addition, you will enjoy the indoor jacuzzi with a private terrace with a glass ceiling and seating, an exit to the garden and scattered scattered corners.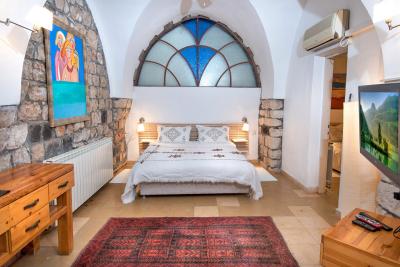 Large and spacious unit, surrounded by beautiful wall stones, arched ceilings, stained glass windows and works of art scattered throughout the unit. In the unit you will enjoy two en suite bedrooms with a jacuzzi and a shower. Rooms have 2 king-size beds, a 42-inch plasma screen with cable connection, night lamps on both sides of the bed and a storage closet. The units have air conditioning, beautiful stone walls, flowered vegetation inside the unit and a coffee corner with sink.
About Us
Pina Barosh - במרומי הגליל העליון עם אווירה כפרית ושלווה
Right at the entrance to the Wadi Rosh Pina reserve and next to the ancient site of the city's restoration, is the prestigious "Pina Barosh" hospitality complex, beautiful and precise, in a pastoral and peaceful atmosphere, located in an ancient stone building and reconstructed in a modern style.When you look outside, you will feel the antiquities surrounding the place, a structure covered with special stones, rich and well-tended vegetation and an ancient general atmosphere, and as soon as your feet are alerted inside the compound you will not believe that the atmosphere outside and the fresh atmosphere surrounding you belong to the same place!Pina Barosh has 4 charming and pleasant guest rooms, each with its own unique design, a unique and unique design that blends in perfect harmony with the atmosphere of the place.
אטרקציות
The guest house at Wadi Rosh Pina is located within the prestigious "Pina Barosh" complex. Instead, enjoy an adjacent chef's restaurant called "Bistro Songs" where you can taste French cuisine in the heart of a well-kept garden with spectacular views of the Upper Galilee. Further on, you can take full wine tours including instruction, cars and various activities. You can enjoy the wine tasting evenings on the bar accompanied by special bar dishes from the restaurant menu.In addition to the surrounding area, you can enjoy interesting nature walks in the nearby Baron Garden, the beautiful Wadi Rosh Pina and drive a few minutes from the center of Rosh Pina where you will find a wide selection of restaurants and shops.
כלול באירוח
We offer a tea / coffee corner with a variety of flavors, a bottle of milk, homemade homemade cookies, spa shoes, fragrant soaps and soft bathrobes.In addition, enjoy room service on a daily basis.
ארוחות
When you arrive you can enjoy a delicious double breakfast included in the price! The famous "Shiri Bistro" restaurant is right inside the hospitality area - where you can enjoy French-rural chef's meals on Moroccan mosaic tables and the shade of the trees with a gorgeous view of the Upper Galilee.* Guests of the house in Wadi, who are interested in breakfast, must pay an additional fee of 50 NIS per person and 25 NIS per child.
חשוב לדעת
** Room guests have a HAPPY HOUR of 50% wine between 18:00 and 19:00 ** We offer a lot of information about activities in the area - wine tours, attractions and hiking trails.** In all rooms you can add a baby bed.
Booking Conditions
click here
facilities
Reviews on Pina Barosh
Reviews were written by visitors who stay us a guest in
Pina Barosh
צפייה בכל חוות הדעת
Found a mistake on the pag Pina Barosh?
click here