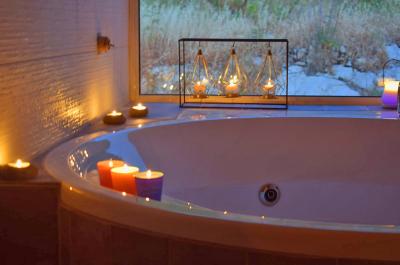 Suite located on the upper level of the complex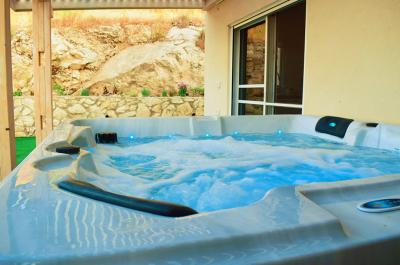 Downstairs suite with private spa jacuzzi
About Us
Top Galilee Suites - Secluded complex with two suites with pool and dreamy view.
New complex - established in May 2021The "Top Galilee Suites" as they are called - are located in the town of Even Menachem in Top in the Western Galilee,Two magical suites, each designed for a couple or a family of 5, are located in a completely isolated complex, on two different levels.On the upper level you will discover the "upper suite" - beautiful and intimate overlooking a beautiful view with a particularly pleasant indoor Jacuzzi.On the lower level is, of course, the "lower suite", a quiet suite with an outdoor spa Jacuzzi and a courtyard with a particularly pastoral view.The Top Galilee complex has a common outdoor area, where you will discover a pleasant swimming pool and seating areas scattered for your enjoyment. So if you book a vacation in the two suites together you can enjoy a secluded complex with a private pool just for you.
The Suites In the Top Galilee Suites complex there are two suites:
Upper Suite:Designed suite with a comfortable double bed, designed armchairs, open to accommodate two children - an option for a mobile bed for another child.In the suite you will find a fully equipped kitchenette, smart TV, Wi-Fi and of course air conditioning.A bathroom equipped with everything you need, in addition to a private, round and beautiful indoor Jacuzzi in front of a magical view.Lower Suite:The suite on the lower level is decorated in shades of white and light blue, with a double bed that can accommodate two more children, a mobile bed can be added for another child.The suite also has a fully equipped kitchenette, smart TV, Wi-Fi and air conditioning.Bathroom equipped with everything you need, the suite has its own outdoor area with a private spa Jacuzzi and seating areas on a beautiful lawn.The suites are air conditioned and cozy, you can of course use the wireless internet throughout the complex.
Common outdoor area
In the common outdoor area of ​​the suites you will find pleasant seating areas, a magical and green panoramic view, and of course - a private swimming pool to the complex.* The lower suite has an outdoor area with a private spa Jacuzzi and lawn, with luxurious night lighting and magical views during the day.
Included in accommodation
Upon arrival at the complex you will find milk, capsules for the coffee machine, cookies and chocolates, fruits of the season.In addition towels and bathrobes, soaps and other cosmetics
Holiday extras
For an additional fee and by prior arrangement, you can enjoy a hearty and nutritious breakfast served directly to you.You can also indulge in a single / double massage by prior arrangement with the owner of the complex, and payment in advance.
Important Information
For your use in a wireless internet complex.The pool in the complex is shared by the two suites - if you rent the two suites together you will enjoy a private pool, a private spa Jacuzzi, and of course a completely private and isolated complex.You can come with animals to the complex - but do not put into the suites.
Booking Conditions
click here
facilities
Reviews on Top Galilee Suites
Reviews were written by visitors who stay us a guest in
Top Galilee Suites
Found a mistake on the pag Top Galilee Suites?
click here