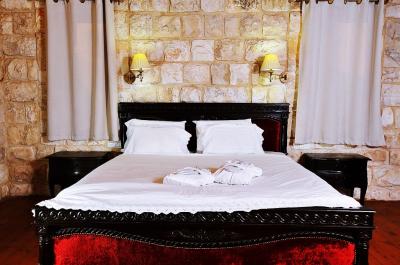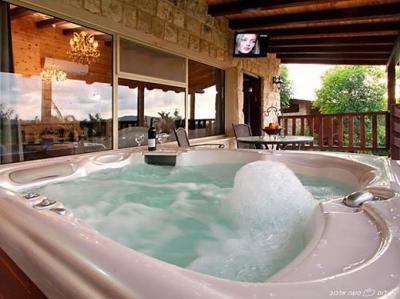 About Us
Malchotiot Begoren suites - About Us Suitot Malchotiot Begoren
European ambiance, private pool and Jacuzzi personal spa with views.If you plan to go out for a romantic break, luxurious and lush pleasures,"Malchotiot Begoren suites" is where you aim. Here, in front of the cylindrical wonderful mountain views, 3 suites are housed in a classic design, which combine the building of Jerusalem stone and wooden decorations and fine furnishings. Here you will gain the best tranquility, peace and privacy you require, plus warm hospitality and delicious treats.The outdoor experience that provide their guests suites, private pool suites at two terrific, in addition, each of the three suites enjoy a private streams spa pampering dream.There is also a shared garden for all guests of the complex with beautiful seating areas with views, barbecue facilities and gorgeous vegetation.Moshav Goren in the suites are located, near famous attractions cylindrical highly recommended: Rainbow Cave, Kziv, and Goren Park Rosh Hanikra. In addition, you can enjoy a variety Achziv beaches and stunning area attractions just a few minutes.
View from the complex
Each suite overlooks the green landscape and special rolls and trimmed vegetation adjacent to the complex.
Winter
Each suite has a private and luxurious spa area that includes a heated indoor spa Jacuzzi that reaches up to 40 degrees heat and an internal transparent shower cabin that includes a professional wet sauna!Each suite has a private terrace where you will find the Jacuzzi a pampering and private spa.
Include hosting
Accommodation + bottle of wine, seasonal fruits, Great chocolates, coffee / tea, mineral water, milk, juice, face and body towels quality, bathing cosmetics, scented soaps, candles.
Meals
By appointment you can enjoy breakfast cylindrical invested.
חשוב לדעת
*בקרבת מקום ובמרחק הליכה של 2 דקות מהמתחם תוכלו למצוא בית כנסת ומכולת לנוחיותכם.*בחודשים יולי-אוגוסט המתחם נמכר בשלמותו ל-3 משפחות!
Booking Conditions
click here
facilities
Reviews on Malchotiot Begoren suites
Reviews were written by visitors who stay us a guest in
Malchotiot Begoren suites
Found a mistake on the pag Malchotiot Begoren suites?
click here