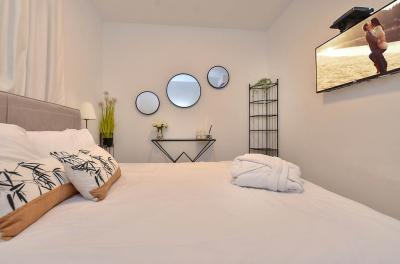 A pampering guest suite for couples or a family of up to 5 people
About Us
Shoval Suite - With a pampering spa Jacuzzi and a dreamy swimming pool
* Brand new - opened in October 2021 * In Moshav Manot in the Western Galilee, a modern, private and quiet suite called "Shoval's Suite" was established -The luxurious suite is suitable for couples or families up to 5 people.The suite has a central space where the living room is decorated, with a cream-colored sofa and wooden legs and next to it a wooden coffee table with decor accessories, in front of the sofa a matching wooden sideboard and a modern TV with LCD screen connected to YES cables.In the main space you will also find a fully equipped kitchen decorated in pleasant light shades, with a gas oven for baking, a water bar, a coffee machine, a small refrigerator, and more.Next to the kitchen you will find a small dining area in light shades that match the character of the suite.The suite is decorated with small accessories like shelves, a wall clock and ornamental flower pots. In the private bedroom of the suite you will find a double bed designed with soft fabrics, offered in quality bedding and of course a particularly comfortable mattress, next to the bed side cabinets with decorated night lights.In the bedroom there is also a cable TV, with a mirror design and a shelf for placing small products you will feel completely at home.The suite has a modern and aesthetic bathroom, with a transparent and shiny standing toilet and shower, where you will also find various toiletries, soft towels, bathrobes, and other cosmetics.
THE GARDEN
In the private and pampering outdoor area of ​​the suite you will first meet in the beautiful swimming pool, fenced light thin wood with steps entering the pool. You will also find an extra large spa Jacuzzi in the corner of the yard, with quality armrests, perfect for cool evenings ... The yard is decorated with many ornamental pots, part of it is paved, in the pool area there is a pleasant grass, and around the Jacuzzi brown stones. The yard is equipped with rich and comfortable garden furniture, with sun beds and quality seating areas. In addition, you will find a round double sun bed, next to it a quality parasol.
Included in accommodation
For an additional fee and prior arrangement, you can indulge in a particularly rich and pampering rustic breakfast. - You can reserve already in the order.Chef meals in coordination with the hosts and at an additional cost.You can also enjoy personal / couple massages in the complex - of course by prior arrangement and additional payment. Upon arrival at the suite you will find a bottle of quality wine, milk, capsules for the coffee machine, snacks and chocolates, a fruit tray of the season, and of course quality soaps and toiletries.
Location
In the Moshav Manot area you can enjoy a wide range of leisure activities and attractions for couples or families.Among other things, you can visit Lake Monfort, Keshet Cave, the Rosh Hanikra site (Hanikrat), Old Acre and more ... You can go hiking in nature, jeep tours, horseback riding and more.The settlement is only 20 minutes from the city of Nahariya, where you can enjoy a beautiful promenade along the sea, shops and malls, quality restaurants, the beautiful beaches of Achziv and Nahariya are a short drive away. You can always consult the owners of the compound.
Booking Conditions
click here
facilities
Reviews on Shoval Suite
Reviews were written by visitors who stay us a guest in
Shoval Suite
Found a mistake on the pag Shoval Suite?
click here