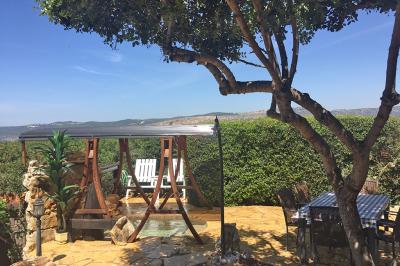 Then there is a "waterfall" where you will find, first and foremost, an outdoor hot tub with a waterfall and a unique stream that serves as a private pool with a water heating and purification system, luxurious and can accommodate families. Inside the cabin you will find a particularly luxurious double bed, with cozy cotton linens, beside it for your personal storage beds, as well as a gallery floor unit with children's beds. In the cabin you will find a wood burning fireplace for the cold winter days, next to a comfortable sofa bed, and a TV with a large LCD screen. A bathroom with an indoor hot tub, bathrobes, spa shoes, soft towels, toiletries, soaps and bath lotions. In the cabin's fully equipped kitchen you will find a coffee corner, a saturday plate, electric kettle, fridge, microwave, etc .. The cabin has an exit to a large and luxurious private balcony where you will find many sitting areas, tables and chairs, and tanning beds - of course, to the side of the hot tub with the waterfall Indulgent.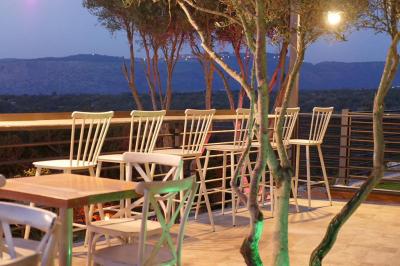 Accommodates up to 10 holidaymakers at the same time, the cabin is built of wood, with 2 bedrooms. In one double bed, in the other room you will find three cozy and luxurious double beds, also offered in cotton sheets. Each LCD TV room is connected to YES cables. In the cabin you will find a pampering bathroom with a large indoor jacuzzi bath, toiletries, soft towels and bathrobes, and plenty of treats. In the Bustan Cabin Sitting Room you will find LCD TVs connected to YES channels as well, along with a fireplace (winter activated at extra charge). The indulgent unit has an indoor kitchen, next to it a cozy family dining area. In addition, a magnificent OUTDOOR kitchen, both specially equipped, with a large fridge, induction hob, and kitchenware. The unit has private parking for two vehicles right outside. The unit has an exit to an outdoor terrace with a large private lawn with spectacular views to the woods, the beautiful Mediterranean, and you will find many seating areas, swings etc.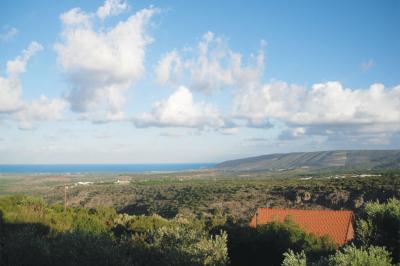 Contains up to six people, a special and rustic suitable for families / couples built of wood, a cozy and comfortable double bed, a wardrobe, an LCD TV with audio system, and a home theater system. In addition, the cabin has a gallery for four people / children - a ladder with the help of a ladder. The unit has a large living room with a pull-out couch, a wood burning fireplace - for winter use (with extra charge) a large panoramic window overlooking the beautiful mountain landscape of the Western Galilee (Rosh Hanikra, the Mediterranean, the Rainbow Cave, etc.). In the spacious bathroom you will find soft towels, bathrobes, cosmetics, and soaps. The cabin has a fully equipped kitchen, next to a large spacious dining area facing the view. In the outside area of ​​the cabin you will find a covered terrace with a beautiful view with a jacuzzi spa and pampering streams. In addition you will find a BBQ area for your comfort, a large wooden table, and private parking within walking distance.
About Us
שפי shefi's - מתחם כפרי עם מבשלת בירה, מסעדה ושלוש בקתות משפחתיות מרהיבות
Holiday complex with 3 stunning country cottages, full of light and tranquility, a good and positive atmosphere.The complex is located in a village in the beautiful western Galilee, among the surrounding mountains, flowing streams, nature walks and many other attractions. The proprietor Sheffi, a private brewery with a very good home-made beer, a very successful home winery, a good distillery, and a country and home restaurant with food will make you lick your fingers.Each cabin is suitable for families, or groups that come to pamper and relax, in a social and family atmosphere and gain experience.
פנים הבקתות
The luxurious shefis shefis complex has three large, family-style country cabins, a waterfall cabin designed for 4 people, an orchard cabin for 10 people, and a sky cabin suitable for 6 people. In each of the luxurious cabins you will find a private Jacuzzi - indoor or outdoor, fully equipped kitchen and a host of treats.
איזור החוץ
In the common outdoor area of ​​the complex we enjoyed the spectacular and magnificent views facing the northern and Mediterranean mountains, and the clean and pleasant air. In the courtyard you will find plenty of comfortable places and options such as, ping pong table, many comfortable hammocks scattered around the complex, many seating areas, swings, and mostly a beautiful green and green landscape, with large lawns and ornamental plants. The complex has a large communal pool, especially luxurious next to seating and tanning beds, dining tables, umbrellas, luxury swings and especially splendor and treats!Adjacent to the outdoor area and the courtyard you will find the private pub - the brewery, where you can sit and enjoy a quality beer made in the place - Sheffi's handmade.
כלול באירוח
Upon arrival at the complex you will find soft towels, bath towels, soaps in each cabin, as well as milk, seasonal fruits, and wonderful beer tastings from the brewery.For the religious public - there is a Shabbat / Mehicham Shabbat platform.Additional treatments and massages can be ordered at an additional charge and in advanceIn addition, a high-quality country breakfast is also provided, plus payment and advance coordination.With an extra charge and advance coordination, you can enjoy invested and unique chef meals.With extra charge you can also order the zimmer arrangement for special occasions (balloons, candles)
החזון של שפי
"In a place with an amazing view of the Mediterranean, a restaurant pub combined with a brewery distills alcohol and wine from the family vineyard.Everyone's day-to-day routine is very busy and demanding, so it is important to occasionally dedicate time to our family to friends, create new friendships and friendships.And my place is inviting and designed just for that, atmosphere, great food, wine beer and self-made alcohol, and lovely people from all over the world.I think my courage to live the dream and allow guests to be a part of it as friends.You have to understand that people travel specifically to get here, it is not "on the road" to the person, and then waiting for them a real and honest experience that touches on the sense of sight and hearing, the smell and the taste of touch and impossible without the sixth sense ... the heart a lot of love and giving ... it's mutual and simple It's lovely to see this happen.In our digital writer world, I am proud that my place touches people really. "
אטרקציות בסביבה
In the complex itself is the brewery of Sheffi, a friends pub, a country restaurant, a winery, etc. Horseback riding, hiking, many streams, restaurants, ATVs, jeeps ..We would love to advise and guide you on hiking trails or attractions in the area - ask us!
Booking Conditions
click here
facilities
Reviews on שפי shefi's
Reviews were written by visitors who stay us a guest in
שפי shefi's
צפייה בכל חוות הדעת
Find out attractions and restaurants near שפי shefi's?
click here
Found a mistake on the pag שפי shefi's?
click here