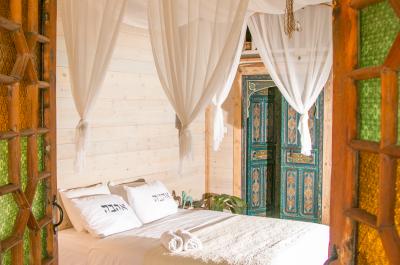 About Us
Ey Sham BeKlil - A luxurious compound in a perfect natural atmosphere
Ey Sham beKlil is a beautiful and magical Compound that was established in the community of Klil which is a unique ecological an picturesque settlement in the Western Galilee, offering accommodation and a variety of attractions in a special atmosphere that you will not find in any other Place. The Zimmer is located between olive trees and natural groves, surrounded by green spaces and nature, and allows you to host a different and unique with a feeling of nature and tranquility and plenty of clear and clean air with spaces spread before you without anyone interfering.Ey Sham beKlil offers you a unique and unusual cabin that combines natural elements with modern accessories and will let you feel like within magic, the magic of the natural world.
The interior of the pampering zimmer
In the compound there is one isolated and private zimmer that suits couples and families who like a different, unusual and special vacation that connects with nature.The Zimmer is meticulously designed, with special ecological elements combined in a paid way. The floor is made of smoothed concrete, which blends in beautifully with the natural light that enters the Zimmer and with the large window to the green landscape of Klil and the Western Galilee. Of course the natural elements of the wooden items, In the cabin there are magnificent wooden doors that can not be transferred to their beauty. You can enjoy a large and comfortable double bed with an orthopedic mattress, comfortable for a perfect sleep, and a kitchenette with a small refrigerator and a coffee / tea corner. . The cabin has an amazing gallery floor where the children can sleep or alternatively you can sit there and enjoy a huge window and a breathtaking view of the magical nature and a romantic and pleasant atmosphere. The cabin also has a large spacious bathroom with wooden items that adorn the ceiling. In the winter you will enjoy a real wood stove that will warm the atmosphere and in the summer from a large ceiling fan.
Courtyard compound
In the courtyard of the complex, Ey Sham beklil, you will find a magical green corner with special seating and comfort areas, hammocks and a special cylindrical view. A beautiful wooden terrace where you can feel nature and detachment from the city, without roads and noises, overlooking the breathtaking scenery, isolated and in absolute intimacy.
Include hosting
Tea / coffee corner, fragrant soaps and soft towels.Paid supplement:A rich Galilean breakfast in head coordination.A variety of massages pamper your reservation in advance.
Attractions
The Zimmer is set in a magical Galilean farm offering a large selection of attractions and pampering packages.Romantic horse tours for couples where you can combine cheese and wine meals and even a romantic couple massage. On Fridays alone, you can also ride to a brewery and enjoy a variety of beers in front of a magical view. Adrenaline enthusiasts will offer ATV and Rijers. You can also find a variety of beautiful trails such as Nahal Kziv and Bezet, the Monfort Fortress, the Keshet Cave and the Tiger Cave, and of course many tourist sites that the Galilee has to offer, such as Akhziv Park or Rosh Hanikra. But this is on condition that you can leave the magical nature corner offered by the Zimmer Ey Sham beKlil. We were and fell in love.
Important information
Klil is an ecological village that is not connected to electricity lines and therefore most of the energy is based on solar energy, and so the line of nature is clean without electricity lines and without busy roads and lots of clean air.In the winter you will naturally warm up with a real, pampering wood stove without air conditioners and in the summer you will be cooled with large ceiling fans.
Booking Conditions
click here
facilities
Reviews on Ey Sham BeKlil
Reviews were written by visitors who stay us a guest in
Ey Sham BeKlil
Found a mistake on the pag Ey Sham BeKlil?
click here