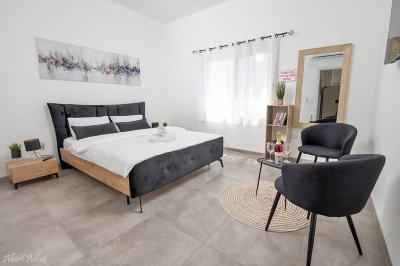 Bright and spacious holiday suite for a couple or family
About Us
shakedi view suite - In the settlement of Granot, the spectacular Galilee
In the Western Galilee, between green mountains and magical valleys, in front of pleasant views and attractions, a magical and intimate suite called "Shakdi's View Suite" was established - the luxurious and quiet suite is suitable for accommodating couples or families up to 8 people.Fully equipped and wholehearted service, private silence and aesthetics at the highest level. The settlement of Garnot HaGilil is located in the Western Galilee, near the moshavim and many points of interest: starting with many hikes and hiking trails, stream routes, magical observation points such as the Goren Park, the Hakeshet Cave, the woodpeckers and more.In addition, you can find fun attractions for the whole family, including paintball, horse farms, abseiling, an inflatable complex for children, ATV tours, jeep tours, bicycles, razors and more.You can find nearby restaurants and bars, within a 15-minute drive you can reach Lake Montfort, or reach the rivers, malls, beaches, and more.
The suite
The suite is spacious and particularly large - it is about 80 square meters, has two double bedrooms, a children's room, a living room, a kitchen and a luxurious bathroom.In the central space of the suite you will find a black sitting room, opposite a designed wooden table with a special leg, with a modern smart LCD television connected to wireless internet.With a fully equipped white kitchen with a large refrigerator, oven, stove, microwave, coffee machine, electric kettle, plates, cups, sum, pots and more.Next to the kitchenette is a dining table in a light shade with patterned glass and accessories. The suite has two double bedrooms, in each of which there is a black double bed, on top of which is a quality and luxurious mattress with soft and pleasant linens. Beside it are two light oak chests with a drawer for storage.The third bedroom is a children's room where there are two bunk beds (to accommodate 4 children), with a small table and chairs for playing.The bathroom in the suite with a shower, toilet and sink stand with a cabinet where you will find soft and pleasant towels (3 types for each guest: body towel, face towel, and pool towel), bath lotions and scented soaps.The suite is fully air-conditioned, aesthetic and clean, and there is wireless internet access.
The private outdoor area for the suite
The courtyard of the complex is private for an intimate and completely isolated suite. As its name suggests, it is "Shakdi's View Suite" and it overlooks a particularly spectacular green mountain landscape, between high and impressive ridges, and quiet and peaceful valleys.The yard boasts a completely private pampering swimming pool (heated and covered in winter), surrounded by a quality wooden deck, with sunbeds and a hammock.Athanatah at its best, with magical sitting areas, some shaded, night lighting and a barbecue area for the guests to use.
Included in accommodation
In the bathroom you will find soft and high-quality towels, bath lotions, scented soaps and more.The kitchen is equipped at the highest level and has everything you will need to prepare a pampering couple/family meal.In addition, milk will be waiting for you in the refrigerator, quality capsules for the coffee machine, cookies, seasonal fruits and a variety of treats.
Booking Conditions
click here
facilities
Reviews on shakedi view suite
Reviews were written by visitors who stay us a guest in
shakedi view suite
Found a mistake on the pag shakedi view suite?
click here