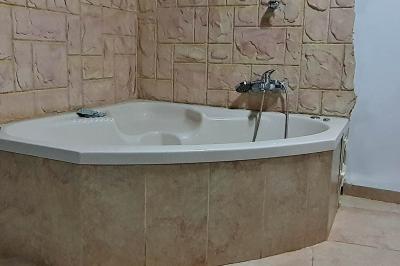 Three luxurious cottages, with private indoor hot tub, and shared pool
About Us
psagot hagalil - A complex with three pampering and country cottages with a large, beautiful pool
** New compound opens in January 2020 **In Moshav Dishon in the Upper Galilee, nestled between Kiryat Shmona and Safed, a rustic and quiet complex was set up with three private cottages identical to one another, a family of four, or a couple who would like to indulge in the beautiful, mountainous, green landscape of the north.Cozy country hospitality, with a warm attitude from the hosts we enjoyed a special holiday.
The interiors of the units
The three quiet and rustic huts, built almost identically and are perfectly luxurious and cozy, inviting and private, full of personal treats and surprises.Each of the cabins has a private hot tub, fully equipped kitchenette, and a host of elements to make your dream vacation a dream.
The Foreign Area
In the common outdoor area you will find a large and luxurious pool, shared with the guest rooms, beside which you will find cozy tanning beds, seating and dining tables, a barbecue area, green trees, and ornamental plants.Night lighting and yard with large lawn, facing the beautiful green upper Galilee landscape.
Include on vacation
Every room awaits you, soft towels, soaps and toiletries
Booking Conditions
click here
facilities
Reviews on psagot hagalil
Reviews were written by visitors who stay us a guest in
psagot hagalil
Found a mistake on the pag psagot hagalil?
click here