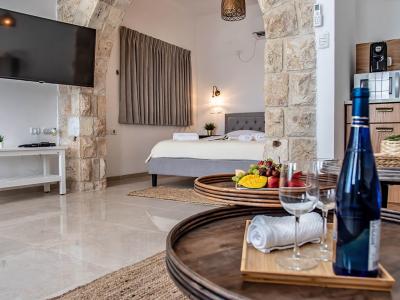 Luxurious suite in a modern and contemporary style with a pampering internal Jacuzzi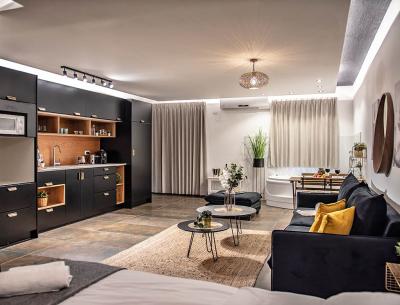 Special country suite with private jacuzzi and fully equipped kitchenette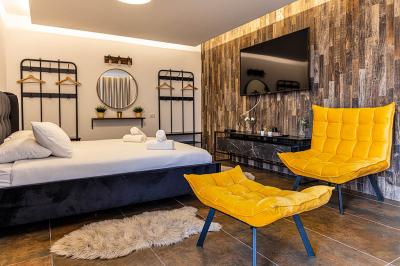 About Us
Osher bagolan - Two magnificent luxury suites in the dreamy Had Nes moshav
The pampering "Happiness in the Golan" complex invites you to fulfill dreams in two magical country suites.In Moshav Had Nes in the Golan Heights, the spectacular complex was established, with the luxurious suites, the "Stone Suite" and the "Modern Suite" - each of the suites is fully equipped, with a variety of indulgences, a fully equipped kitchenette, and a cozy private indoor Jacuzzi.Moshav Had Nes, located in the Golan Heights, is located in a real tourist center, around which you will find streams, various and varied attractions and a variety of activities for couples / groups and families
THE SUITES
In the Osher complex in the Golan you will find two luxurious and spectacular suites, where their contents and equipment are almost identical but their design is different."The Modern Suite" -Luxurious suite, decorated in a contemporary style, built as a luxurious studio unit, in shades of royal gray and black.In the suite you will find a luxurious double bed made of high quality black fabric, offered in high quality bedding,In front of it is an LCD TV connected to YES and SMART TV cables.Next to it you will find a comfortable sofa, in shades of black that is also designed and comfortable, and the pedestal matches next to it. With many accessories around, quality coffee tables are decorated with ornamental pots.You will also find a dreamy, fully equipped kitchenette with everything you will need during your stay in the suite, from an espresso machine, serving utensils and more. Seating area for four for your use in the suite.Nearby you will find a high-quality corner indoor Jacuzzi in any cream-clad wall cladding.In the pampering bathroom you will find a modern shower, toilets where you will also find toiletries, quality towels, bathrobes and more."Stone Suite" -The luxurious suite is built and decorated in a country style, with a special niche and a spectacularly designed "bricks" arch. There you will also find the luxurious bed of the suite - a double bed in shades of gray, offered in high-quality cotton bedding in white. With air conditioning in the suite. Next to the bed is a shop window covered with a curtain decorated in shades of gray.In the suite you can also enjoy a comfortable living room with tables decorated in different shades and heights, special and beautiful design,Nearby is the fully equipped private kitchenette, with coffee maker, microwave, etc.The suite has a private round Jacuzzi in the corner of the room, surrounded by many accessories to complete the atmosphere.In front of the Jacuzzi elongated windows and a magical view.In the pampering bathroom you will find a modern shower, toilets where you will also find toiletries, quality towels, bathrobes and more.The suites are air conditioned with a modern air conditioner and you can use the Wi-Fi during your stay in the complex.
garden
In the common outdoor area you will find a particularly well-kept courtyard overlooking the magical shores of the Sea of ​​Galilee. On the large terrace you will find a whirlpool spa streams (for both suites), comfortable and shaded seating areas, hammocks, a barbecue area for your use, lighting throughout the yard, a seating ball with comfortable cushions and more.
Included in accommodation
In each suite you will find quality wine, milk, capsules for the coffee machine, fruit, soaps and toiletries, towels, and bathrobes.For an additional fee and prior arrangement, you can enjoy pampering massages / quality breakfasts.
attractions
Near the complex are many spectacular streams for scenic walks and walks in the water: Jordan Park, Zaki, Magrasa, Yehudiya, Zavitan and more. Also in your area are horseback riding, ATV tours, hiking trails, jeep tours, the beautiful Sea of ​​Galilee, malls, restaurants and more.
Booking Conditions
click here
facilities
Reviews on Osher bagolan
Reviews were written by visitors who stay us a guest in
Osher bagolan
Found a mistake on the pag Osher bagolan?
click here