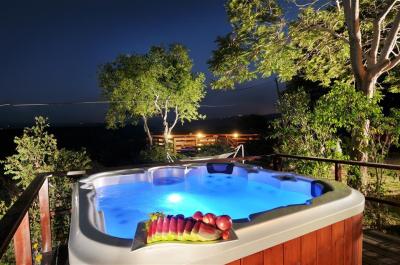 Spacious and luxurious wood cabin, 45 m², with separate children's room and private garden area with pampering spa bath. In the luxurious cabin you will enjoy a comfortable double bed, matching wooden chests, night lamps, an LCD screen with satellite channels, a separate bedroom for children, an intimate sitting area, tasty treats and a fully equipped kitchenette with tea / coffee corner, espresso machine, microwave and electric kettle. In addition, you will enjoy a huge Jacuzzi, surrounded by glass windows that allow perfect views of the pastoral landscape and an elegant bathroom with bath amenities and a pampering shower. In the private garden area you will enjoy an intimate thin terrace with seating areas and a private spa Jacuzzi that looks out over the view and overlooks the common pool area.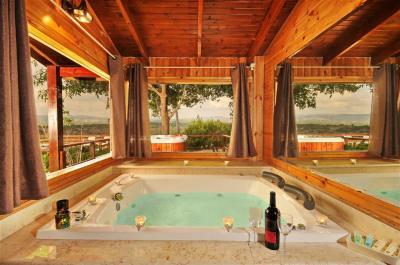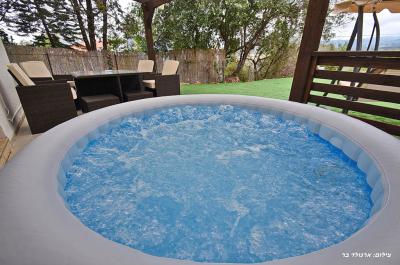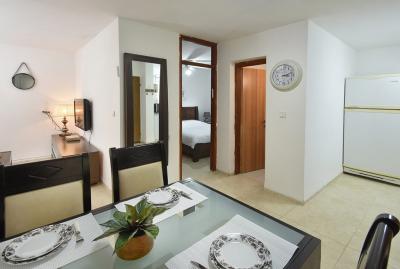 About Us
Biktot Nofim - שתי בקתות עץ ושתי דירות אירוח עם ג'קוזי ספא פרטי מול הנוף
Nofim Cabins offers its guests all the wonders of the vacation you have dreamed of ... from full privacy, endless treats, quality facilities and of course a magnificent view that surrounds the entire complex.2 luxurious wooden cabins offer you a romantic private vacation, with or without the children. A large Jacuzzi overlooking the view is located in each of the pleasant cabins, air conditioning, LCD screen with satellite channels, a separate children's room, a fully equipped kitchenette with an espresso machine and a huge private spa Jacuzzi pampering in the outdoor area of ​​each of the cabins overlooking the magical view and the complex The shared pool.In the common area of ​​the cabins you will enjoy a cool and pleasant swimming pool, wrapped in thin wood, sun beds scattered around, well fenced for maximum safety and overlooking the magnificent view of the Galilee mountains.
נוף מהמתחם
The complex is located in the beautiful Mitzpeh Manot, surrounded by an expansive, pastoral nature. From the common fenced pool complex and from the private spa hot tub of each chalet you can enjoy a spectacular Galilean view towards the Monfort Fortress and on the other side towards Rosh Hanikra.
כלול באירוח
A bottle of fine wine, milk, mineral water, a tea / coffee set, a fruit basket, bath towels, fragrant soaps, bathrobes and a Dead Sea spa.Extra chargeBy appointment you can enjoy a rich breakfast served directly to the cabin.If you want a fine dinner, you can order a chef's meal for a pre-booked suite at a separate cost.For a total relaxation of the body, you can indulge in special spa treatments by qualified massage therapists.
מיקום
Around you are a variety of excellent tourist attractions such as Rosh Hanikra, Keshet Cave, Monfort Lake, Yehiam Fortress, Monfort Fortress, Bahai Gardens, Goren Park, Nahal Kziv and more.In addition, there are countless hiking or biking trails around you, amazing views, horseback riding, ATVs, jeeps, shopping and entertainment complexes, restaurants and more.
Booking Conditions
click here
facilities
Reviews on Biktot Nofim
Reviews were written by visitors who stay us a guest in
Biktot Nofim
צפייה בכל חוות הדעת
Find out attractions and restaurants near Biktot Nofim?
click here
Found a mistake on the pag Biktot Nofim?
click here