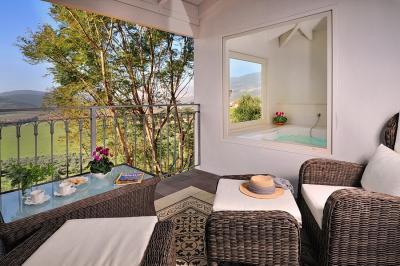 Relaxing, peaceful, quiet and lots of romance in front of a virgin and green landscape
About Us
Gavoha Mol ha'Nof - Une pause face à la nature et un paysage vert et envoûtant dans des suites luxueuses et luxueuses
You want to break away from the city's noise, stress and work for a few days, you need a little peace and quiet with lots of romance and charm, to enjoy the green expanses of a green and virginal horizon. In Moshav Kfar Hanania, located on the seam line between the Upper Galilee and the Lower Galilee, on the first line to a spectacular view, the complex is "high in front of the landscape", wake up in front of the hypnotic Galilean nature that only the chirping of birds will accompany you in the background! The complex has 2 beautiful suites with a large luxurious bed and a huge square Jacuzzi next to a window that brings the view in. In the green garden courtyard there is a heated swimming pool (from Passover until October).Kfar Hanania is a short distance from the shores of the Sea of ​​Galilee, picturesque Moshav Rosh Pina and the city of Safed, besides you can enjoy a variety of attractions, hiking trails and a variety of restaurants and cafes within a short drive.
interior of the prestigious suites
2 luxurious boutique suites with first-line views, the suites are decorated in a modern line with elegant parquet floors and high white wood ceilings and luxurious furnishings.Each suite has a large and luxurious queen-size bed with painted wooden chests with matching night lamps. The suites have impressive lighting fixtures, flower pots that give color and beautiful decorative items. The suite guests will enjoy a smart TV with hot-water connection, along with a comfortable bed in front of two huge windows facing the view, a romantic and square Jacuzzi. Each suite has a well-equipped kitchenette and a cozy dining area. The suite also has a large spacious bathroom with a special shower and a luxurious rain head .Each suite has a private and intimate balcony facing the mountains and the green fields of the Galilee with luxurious and high quality garden furniture.
common garden yard
The two suites boast a pleasant and intimate garden garden, fenced in by a fence in the Mevouqs that surrounds the complex, and on one side a special garden decorated with flowers, a garden with green ornamental trees and herbs, pleasant and comfortable seating areas, umbrellas, a barbecue corner and of course a pleasant swimming pool, And until October, you can choose whether to sit and enjoy in the shared and enchanting courtyard or on the private balcony for each suite, intimate and romantic sitting on the landscape.
Include on vacation
A bottle of fine wine, milk, espresso capsules, snacks, delicious cookies, chocolates, seasonal fruit basket, bath towels and fragrant soaps.extra charge:Rich, tasty breakfasts can be ordered for the suite.On request and prior coordination you can order a variety of treatments and massages of your choice.
Attractions nearby
The village of Kfar Hanania is located on the seam of the Upper Galilee and the Lower Galilee so that it is a perfect location for hiking and recreation, you can also enjoy a hike because of the upper and around the Sea of Galilee, before you will stand a large number of attractions including the beautiful shores of the Sea of Galilee, water sports, nature and river trips, horseback riding , Jeep tours and ATVs. In addition, you can enjoy a magical walk in the Rosh Pina settlement or in the picturesque Old Town streets of Safed. In the culinary area, the area offers restaurants and cafés. The location is accurate and you just have to choose what you want to do.
Booking Conditions
click here
facilities
Reviews on Gavoha Mol ha'Nof
Reviews were written by visitors who stay us a guest in
Gavoha Mol ha'Nof
Found a mistake on the pag Gavoha Mol ha'Nof?
click here