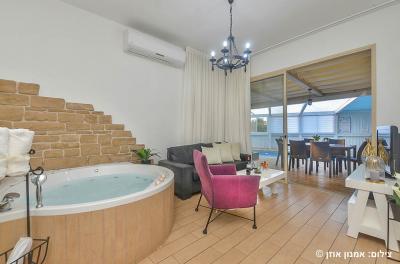 About Us
Ahuzat Loren - Indulge in a dream suite with total privacy
With a precise combination of wood and stone, white and brown, romantic and prestigious - the luxurious Lauren Estate was established. While thinking about family quality time or romantic, intimate experience with full privacy for couples.Located in the western Galilee, in Moshav Ein Yaakov, the estate is situated, with an exact match for couples and small families, with 2 bedrooms and a covered outdoor area that boasts a variety of private spa treats!
Interior view
The mansion will enjoy an impressive interior design, a separate bedroom, a spacious central space and an indoor pool area with 2 wet and dry saunas.In each bedroom you will enjoy a luxurious king-size bed, a 42 "LCD screen with HOT channels and a wardrobe for clothes.The main space of the suite was living luxurious seating areas are designed, screen LCD 32 'with connecting channels HOT, Jacuzzi round pampering, electric fireplace, lamps chandelier, fully equipped kitchen that includes an electric kettle, an espresso machine, kitchen utensils and more and a luxurious bathroom with shower.
Foreign Compound
In the pampering outdoor area of the estate, which allows guests to vacation in complete privacy, you will enjoy a heated and indoor swimming pool, surrounded by sun beds, hammock, large dining area and quality garden furniture. In the compound is a professional dry sauna with a pampering wet sauna. Romantic night lighting and landscaped greenery.
Include hosting
A rich and luxurious breakfast.House honors; A bottle of fine wine, milk, tea / coffee set, homemade cookies, chocolates, fruit platter, snacks and soft drinks.In the bathroom you will find toiletries such as body lotion, liquid soap, bath salt, shampoo and more.Additional chargeBreakfast in July, August and holidays and chef meals throughout the year.Body and soul massage treatments.Hosting a child in the unit.
Winter
During the cold season you will hardly feel the winter that is raging outside due to the high quality equipment!A well-covered outdoor area where you will find a private indoor and heated swimming pool, a professional wet sauna and a pampering dry sauna.Inside the suite you will enjoy a cozy electric fireplace, warm down bedding and an extra large round Jacuzzi.
Important Information
For the religious public:The synagogue is located nearby, there is a mikveh (ritual bath) in the community, the food and refreshments are kosher, a Shabbat plate and a kitchen can be provided.children:Children's safety pool can be added to mattresses and baby crib.
Booking Conditions
click here
facilities
Reviews on Ahuzat Loren
Reviews were written by visitors who stay us a guest in
Ahuzat Loren
Found a mistake on the pag Ahuzat Loren?
click here