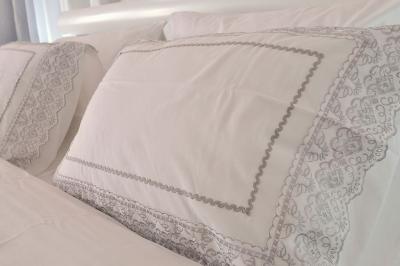 Luxurious and private suite, suitable for couples or families up to 2 children. The suite will enjoy a spacious and elegant elegant-romantic design, a large double bed, a romantic Jacuzzi, a coffee corner with comfortable chairs and an LCD screen with yes channels, a luxurious bathroom, a well-equipped kitchenette and easy access to the private garden. The outdoor complex of the suite includes a luxurious private pool for the summer months, a Jacuzzi with high quality spa, sun beds and comfortable sitting areas, gorgeous ornamental plants, a barbecue corner and pleasant night lighting.
About Us
Liylot Lavanim - חופשה בסוויטה אינטימית עם בריכה פרטית- והכל במחיר אטרקטיבי!
"Liylot Lavanim" Suite invites you to a romantic couple vacation or a family (up to 2 children in a suite) completely private, luxurious pool includes a summer and a large spa hot tub, light design and lots of space. Hospitality suite is personal and very courteous, suitable for a double celebration of any kind and people who are looking to break away the daily routine and relax without any disturbance.Located in Kfar Hanania, just fifteen minutes from the shores of the beautiful Sea of Galilee, Safed and Rosh Pina tourist attractions and a variety of hiking trails in the immediate area. You can consult with the hosts about the best places to walk and attractions offered by the region.
בחורף
Two jacuzzis - interior and exterior spa are well heated in winter.
כלול באירוח
The bathroom towels are high-quality body, face and hand towels, bathing cosmetics, bubble bath and scented candles.
ארוחות
Enjoy a rich country breakfast by the pool in particular, to coordinate with the hosts and for an additional fee.
חשוב לדעת
- Do not make barbecues on Shabbat- No smoking in the suite- Do not cook in the suite
Booking Conditions
click here
facilities
Reviews on Liylot Lavanim
Reviews were written by visitors who stay us a guest in
Liylot Lavanim
צפייה בכל חוות הדעת
Found a mistake on the pag Liylot Lavanim?
click here