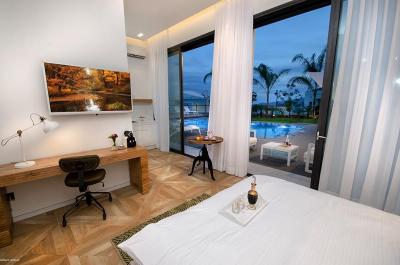 Suites are 28 square meters in size, are built using open space and contain direct access to the pool shared. Each suite Enjoy a large double bed and comfortable orthopedic 2X1.60, LCD 42 "FULL HD home cinema system, connecting to a full suite of HOT channels, wardrobe, table stylish bar, a large bathroom and luxurious and fully equipped kitchenette with a professional espresso machine. To reach the complex pool and jacuzzi all you have to do is shift the long curtain and open the big glass window and magnificent pool complex awaits you directly luxurious garden.
About Us
Levit house - סוויטות מפוארות במתחם אירוח יוקרתי ומפנק
Levitt House complex is located at the colony, near the Sea of Galilee and is pretty spectacular scenery and breathtaking. 5 beautiful boutique suites, suitable for couples and families and include a shared garden with a huge swimming pool and hot tub heated pool built-currents.Around the village there are a variety of attractions and family activities and relationships in which you can enjoy and come back and indulge your luxury suite.
נוף מהמתחם
Elegant design and precisely established here five boutique suites spectacular.Every one of them you will indulge in a large orthopedic bed, full HD LCD screen 42 ', HOT TV, home theater, dining room designed, bar table, a large bathroom and a stylish, fully equipped kitchen and high-quality espresso machine.Each of the suites there is private access to the magnificent pool area through a large glass wall and impressive. There will await you a large heated swimming pool specially built-in Jacuzzi inside 11X5.5 professional streams, magnificent spa jacuzzi, children's safety cover, sun beds, luxurious, luxurious seating areas, hammocks, barbecue complex professional, wide lawns and scenic and beautiful Lake Sea of ​​Galilee and the nearby ridge.
בחורף
בימי החורף תוכלו לצאת אל מתחם הבריכה המפנק ולהתחמם באמצעות ג'קוזי ספא מפואר ובריכת שחייה מחוממת וגדולה במיוחד.
דגשים על מקום האירוח
Upon arrival you will receive a suite champagne bottle, bottle of wine, coffee and control, milk, chocolates, seasonal fruits, cookies, bathrobes, spa slippers, Iron, cosmetics and other toiletries.In addition, to enhance the experience your dream vacation, you can indulge in a scrumptious breakfast and excellent chef dinners, by appointment.
מיקום
Around the lake are located in a variety of activities such as bathing beaches, water sports, area attractions, sailing canoes from the colony, workshops for chocolate, unique galleries, pubs, hiking trails, petting zoo and a selection of fine restaurants and fine dining.
חשוב לדעת
המתחם נמכר מ-3 יחידות ומעלה.
Booking Conditions
click here
facilities
Reviews on Levit house
Reviews were written by visitors who stay us a guest in
Levit house
צפייה בכל חוות הדעת
Find out attractions and restaurants near Levit house?
click here
Found a mistake on the pag Levit house?
click here