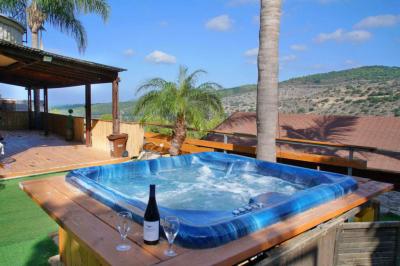 A pair of caves almost identical in their design and content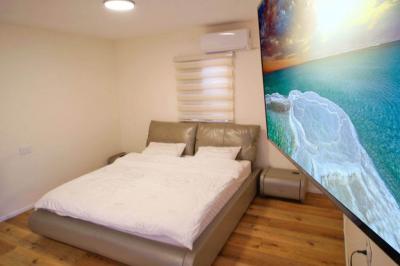 A special and modern wooden cabin for couples or families
About Us
A solid rainbow - Three magical accommodation units in Moshav Yaara
*new on the site*In the Western Galilee, in front of a particularly magical mountain view in Moshav Yaara, the "Keshet Eitan" accommodation complex was established - in the complex 3 accommodation units, 2 beautiful stone suites, and one wooden cabin. Located at the edge of a cliff and enjoys a wonderful, peaceful and relaxing panoramic view. The complex is suitable for hosting couples and families alike, uninterrupted and extremely quiet, with a swimming pool, and a spa Jacuzzi at your disposal the complex will feel like a dream.In the vicinity of the complex you will find plenty of attractions, from many hiking trails in nature, the Rainbow Cave, the caves, the magical Achziv beaches, attractions for couples, jeep and ATV tours, horseback riding and many more options for couples or families.
The units in the compound
The complex is built and divided into 3 wonderful accommodation units, including 2 magnificent and special stone suites, and a magical wooden cabin.Interior of the suites - "Keshet Eitan" The 2 suites are built of stone inside and out, designed and decorated to maintain the unique maran, completely identical.The suites have a large stone Jacuzzi in the center, next to it a comfortable seating area in earth tones, with flower pots that gently decorate the suite and add light and warmth.Each has a fully equipped kitchenette with a small refrigerator, coffee and tea set, espresso machine, microwave and more. Next to the kitchenette is a double seating area.They are built as a spacious space with a special division for partial separation between the central space and the sleeping area, where you will find a double bed built of stone, with a particularly comfortable mattress, soft and quality bedding, and an LCD TV connected to HOT cables in front of the bed. Of course there is a particularly pleasant private bathroom, with a comfortable shower toilet and a unique sink, where you will also find soft and quality towels and of course fragrant toiletries.Interior of the wooden hut - "Shira" - Shira hut made of wood with a thin floor in a light shade, built as one space. In the center stands a magical double bed made of gray, soft and comfortable leather and quality bedding is offered. When matching sideboards stand Lida. In front of the bed is a modern LCD TV connected to HOT cables. You will also find a comfortable sofa in a vintage style in an antique pink shade, next to it a comfortable single armchairs and a coffee table made of wood. With a modern bathroom with a shower and toilet, soft and quality towels and of course fragrant toiletries will also be waiting for you. The wooden cabin has a kitchenette with a small fridge, microwave, espresso machine and more.
The outdoor complex
Each of the suites and the wooden cabin has an outdoor area designated only for the unit, with cozy hammocks, a swing, a shaded exterior deck, and a small lawn.In addition to the entire complex, there is a common outdoor area where you will find a magical swimming pool - overlooking the impressive mountain view and with clear air that will give you the desired feeling of freedom. You will also find a shared spa Jacuzzi for a large and spacious complex on the other side of the courtyard. You will also find a barbecue area, comfortable seating areas, potted plants and ornamental plants and more.
Included in accommodation
Upon arrival at the complex you will find quality wine, milk, capsules for the coffee machine, soaps.For an additional fee and prior arrangement, you can enjoy rich and varied breakfasts that will be served directly to you.
Important Information
* Please do not dial on holidays and Saturdays ** Can be hosted with children in July and August and holidays. (Regular season for couples only)
Booking Conditions
click here
facilities
Reviews on A solid rainbow
Reviews were written by visitors who stay us a guest in
A solid rainbow
Found a mistake on the pag A solid rainbow?
click here