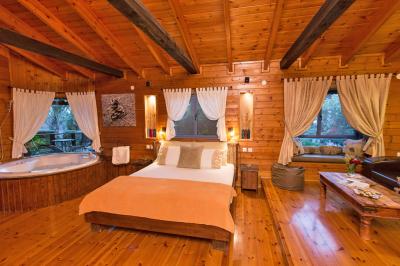 First line of the Sea of Galilee, private spa with hot tub
About Us
Kesem Hashani - Hosting Dreamy in front of the Kinneret
Immense Compound, well wrapped in greenery and spectacular panoramic views to the whole of Galilee.Kesem Hashani offers the highest level of pampering, which includes primarily top quality service and ensuring complete all the little details, plus the option of a single or couples massage in a hut by the owner and host - a certified masseuse by profession. Each of the three wooden huts (couples only) well hidden from her sisters by greenery, with only a path drawn between lawns leading to it. Inside there are many luxuries available and a large terrace with a hot tub and a huge private spa just for you...Kinneret beaches just 5 minutes away! In addition, in the seat itself you can enjoy horseback riding and Jeep (including the fascinating night safari), chef of the well known restaurants in the Golan Heights, magnificent views across the region, Gamla, plant and recreation center Hamat Gader short drive away.
The cabins
Three cabins of Hashani Kesem and identity are immersed in greenery. Each cabin is characterized by the construction method of open space and practical design includes warm and comfortable, Jacuzzi, Complete equipping and terrace with jacuzzi and a huge private spa Dreamy.
Location
Moshav Ramot considered one of the tourist pearl in the the Kinneret, with high standing water gets to look first class.Seat considered a key point for any trip possible and holds a long-standing professionalism when it comes to the romantic tradition of rural hospitality and fine. From here you can choose whether to go out and spend your time on the beaches, many hiking trails, the finest attractions and restaurants or on the magnificent snow of winter.
Meals
Breakfast is rich, varied and full of all good will be served to you cabin coordination with the hosts. The meal will be placed in your honor in the dining area, balcony or straight to bed.
Booking Conditions
click here
facilities
Reviews on Kesem Hashani
Reviews were written by visitors who stay us a guest in
Kesem Hashani
Found a mistake on the pag Kesem Hashani?
click here