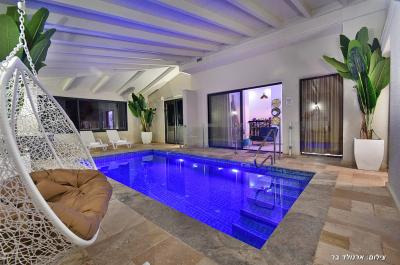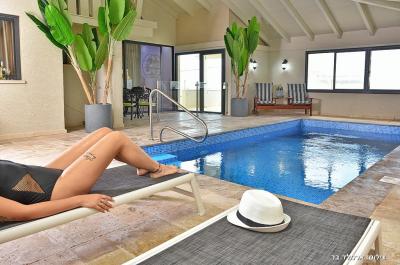 About Us
Hilat Hashahar - Completely private vacation in luxurious and pampering suites
When dreaming of a private vacation, you probably dream of "Hilat Hashahar."A new and luxurious hospitality complex, luxuriously designed, completely private, with a wealth of amenities and the highest level of hospitality you have ever seen! Here, think about all the details, even the smallest ones, such as decorative items and chairs designed to make your vacation pleasant and take you to heights you have not yet known ... Sure this privacy is full you have never seen anywhere ...
Interior view
The luxurious and private suites will give you a luxurious and indoor outdoor complex and spacious and stylish interior space.In the spacious and spacious interior of each of the two luxurious suites you will enjoy luxurious and tastefully decorated furniture, comfortable seating areas, designer tables, large dark curtains for a perfect shading, a large and comfortable sleeping bed, an LCD screen with HOT channels, a fully equipped kitchenette including an espresso machine with capsules, Electric, tasty treats, fridge and more.In the presidential suite, you will also enjoy a separate children's room with a double bed with cable LCD screen and a body mirror.In the Royal Suite you will also enjoy 2 fully equipped bedrooms with a comfortable double bed, designer chests and air conditioning.
A private outdoor area for each suite
* In the presidential suite- enjoy a balcony with an intimate seating area and a high-quality swing, where you can have breakfast while watching the Galilean landscape. In the covered area you will enjoy a landscaped hammock, sun loungers, landscaped plants, romantic lighting and of course a private heated indoor swimming pool and a huge and professional spa Jacuzzi.In the Royal Suite- you will enjoy a quality indoor space with a non-slip flooring, a swimming pool built of heated indoor mosaic flooring,spa a designed hammock, comfortable sun beds, a glass safety fence and an exit door to the outdoor area.
Include hosting
A bottle of fine wine, milk, crisp cookies, chocolates, a seasonal fruit basket, bathrobes, spa shoes and fragrant soaps.Additional chargeIn advance you can enjoy massages and professional body and soul treatments by qualified massage therapists who will be able to reach your private suite.** By prior reservation you can enjoy a variety of facials, medical pedicures and manicures up to the suite.
ארוחות
ניתן להזמין ארוחות בוקר עשירות עד הסוויטה.
חשוב לדעת
לא ניתן להזמין אורחים לצימר ללא אישור.לא ניתן לעשן בפנים הסוויטה. לא ניתן להפעיל מערכות שמע וקריוקי.לא ניתן להביא בע"ח.
Booking Conditions
click here
facilities
Reviews on Hilat Hashahar
Reviews were written by visitors who stay us a guest in
Hilat Hashahar
Found a mistake on the pag Hilat Hashahar?
click here