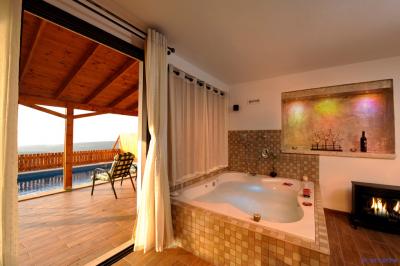 Private luxury suite facing the Mediterranean SeaPrivate luxury suite, spectacular and full of cylindrical panoramic view - only one couple. Magical Sun complex offers generous couples exclusive, luxurious suite includes a luxurious stay with meals, treats and adjacent garden complex where you expect the swimming pool and jacuzzi spa dreamy, complete privacy overlooking the view. Interior design is characterized by luxurious suite includes a wide wooden furniture, a romantic Jacuzzi and double Belgian viewers through windows to the pool area and landscape. The kitchenette is suitable for making meals and romantic side dining area.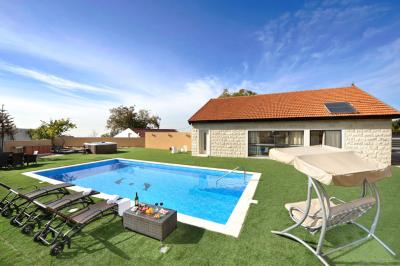 Interior space over 100 square meters, is divided into two parts- a living room and three bedrooms equipped and suitable for 10 adults. Every bedroom you will find a large double bed and luxurious, storage closet compatible, Jacuzzi quality and extra large LCD screen 42 'with connection cable channels, a fully equipped kitchenette includes cookware, espresso machine, refrigerator, electric kettle and toaster and an en suite bathroom for each room features double rain shower. The main space Enjoy luxury leather living room, LCD screen with three-dimensional technology, a premium sound system and modern streamer with 300 films, including among them the three-dimensional movies. Enjoy instead of two fully equipped kitchens with stoves, tools and serving bushel, toaster oven, professional espresso machine, large refrigerator and more. The estate has a particularly impressive private outdoor area. A beautiful, private and beautiful garden area where you will enjoy a luxurious private swimming pool, huge spa Jacuzzi, sun beds, hammocks, swings, garden furniture and more.
About Us
HaShemesh HaKsoma - מתחמי יוקרה פרטיים ומפנקים!
A luxurious private suite with whirlpool spa and pool overlooking cylindrical amazing!Imagine a place where there are only you ... and the view. "HaShemesh HaKsoma" Moshav Ein Yaakov invites you to a private celebration full of all good, including luxurious accommodations in a large suite or a luxurious estate with a private heated and covered pool! Whether you choose a suite or fancy a luxury estate does not matter, because each of them located completely separate from the other and thus you get a secluded and completely private area, with adjacent garden area includes private swimming pool (heated and covered) and spa jacuzzi in front of the view.The suite is the most ideal location for walks around, when all around you are Lake Montfort, Rosh Hanikra, Yehiam Fortress, Achziv beaches and a variety of other beautiful tourist spots, plenty for jeep tours and ATV, horseback riding, fine restaurants and hiking trails legs.
מבט פנים
In the luxurious suite you will enjoy full luxury and privacy in front of a spectacular Galilean view, suitable for just one couple. The pampering of the place starts inside the suite with a luxurious double bed, large internal Jacuzzi, LCD screen, a fully equipped kitchenette and an elegant bathroom. In the outdoor area you will enjoy a completely private garden where sun beds, garden furniture, a swimming pool and a pampering spa Jacuzzi await you in complete privacy, overlooking the mountains of the Western Galilee and the fields leading to the Mediterranean Sea.At Ha'shemesh Ha'ksoma you will enjoy a huge interior space of more than 100 square meters, a modern and rich interior design, full privacy, 3 fully equipped bedrooms (as a fully private vacation unit) with an en suite bathroom, A fully equipped kitchenette including a water bar, LCD screen, luxurious bed and more. In the main hall you will enjoy a huge and elegant leather living room, 50 'LCD screen, two large kitchens and well equipped...In addition, you will enjoy a large and extra-large outdoor space including a luxurious private swimming pool(Heated and covered), a huge spa Jacuzzi, garden furniture and more.
בחורף
The swimming pool and spa in the suite are heated and well-covered. In addition, a romantic fireplace located inside the suite will protect you from the cold.On the estate you will enjoy a heated pool from March and a hot spa Jacuzzi.
כלול באירוח
Accommodation and a host of treats: a bottle of fine wine, soft drinks, energy drinks, summer ice cream, milk, coffee capsules and coffee / tea set, seasonal fruits, chocolates and surprises. The suite will include cozy bathrobes, bath towels, face and hands, spa shoes, shampoos, soaps, fragrant oils and candles.
ארוחות
Breakfast served in the suite or garden compound in the scenery.
חשוב לדעת
In the months of July and August there is a possibility to bring 2 children.* The pools are heated from September to the end of July).
Booking Conditions
click here
facilities
Reviews on HaShemesh HaKsoma
Reviews were written by visitors who stay us a guest in
HaShemesh HaKsoma
צפייה בכל חוות הדעת
Found a mistake on the pag HaShemesh HaKsoma?
click here