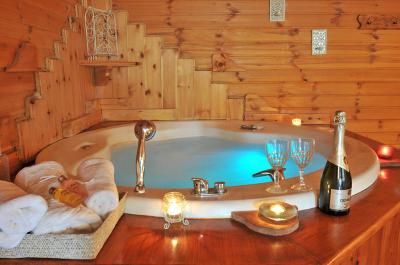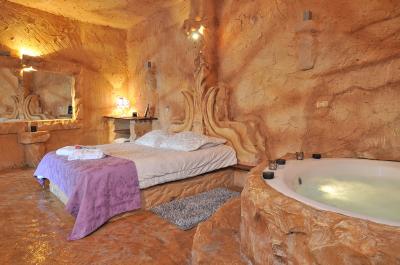 About Us
Hall Berashit - Spectacular suites facing the most mesmerizing, expansive and complete views that the Western Galilee can offer.
If you have dreamed of vacationing in front of the scenery but did not really know what to choose, take a tip from us: leave all your concerns aside and take a vacation in Genesis, facing one of the most breathtaking views!The Genesis Halls are perfectly positioned on the cliff edge of Honeymoon Moshav. An unparalleled open panoramic view from here overlooks a rainbow cave, an impressive mountain range, wild forest and of course a green and perfect spectacle for winter guests. The complex includes 3 vacation units - a romantic cabin and two special stone suites, a swimming pool (with extra heating and pre-arranged option), a spa hot tub and a dry sauna.A perfect match for couples and families looking for a quiet, undisturbed place, with impressive scenery and lots of nature, hiking, streams and attractions in the surrounding area.
The interior of the cabin and the suites
The interior of the cabinThe cabin in the complex is suitable for couples and families and includes a high quality, rustic design. Emphasis on white furniture and romantic décor, a pampering hot tub, fully equipped kitchenette and personal seating area.The interiors of the suitesThe two suites are designed with a special stone, well-kept, romantic and fully equipped. Includes a pampering hot tub, fully equipped kitchenette and large private balcony with seating area and two pampering hammocks.
מתחם הגן
הגישה מהיחידות אל מתחם הבריכה עוברת דרך קירוי אבן מיוחד עם עמודי תמך וחושפת את הנוף המרהיב שנשקף לנגד עיניכם. במתחם עצמו תיהנו מבריכת שחייה,ג'קוזי ספא זרמים, סאונה יבשה(רק בחודשי החורף), פינת ברביקיו, פינות ישיבה, מפלי מים מיוחדים, ערסלים ונדנדה השוכנים מול הנוף. 
ביחידה יחכו לכם
מוצרי טואלטיקה, סבונים ומגבות. 
ארוחות ועיסויים
*בתוספת תשלום ובתיאום מול בעלי המתחם תוכלו ליהנות מארוחת בוקר כפרית עשירה, עיסויים לאורך כל שעות היום.*
Important Information
* With extra charge and advance coordination, it is possible to heat the pool during the winter months *
Booking Conditions
click here
facilities
Reviews on Hall Berashit
Reviews were written by visitors who stay us a guest in
Hall Berashit
Found a mistake on the pag Hall Berashit?
click here