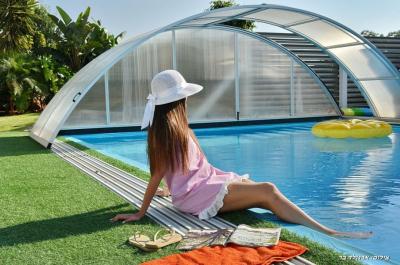 Private suite with internal jacuzzi and two bedrooms
About Us
goren scent - Stunning wooden cabin with private indoor pool and spa jacuzzi
The beautiful complex "Fragrances in the Goren" is located in none other than the northern settlement of Goren. On the way to the dreamy hospitality in the complex you will enjoy a variety of spectacular landscapes and colors, of the beautiful Mediterranean Sea, the mountains and high valleys, spectacular views, and magical nature reserves.When you arrive at the accommodation in the wonderful place, you will discover a large courtyard with an extra large swimming pool (13X6) covered in the winter months, and a dreamy and luxurious wooden cabin with a variety of surprises. The accommodation is suitable for couples, families, and the religious public.
The interior of the suite
Built in a pleasant and rustic wooden hut, especially warm and homely and full of a variety of treats and surprises.Upon entering the suite you will find a luxurious and cozy double bed offered in quality bedding with a wooden bedside table, cozy rugs in cream shades,And next to them is a dreamy corner Jacuzzi. The entire cabin is air-conditioned and pleasant, with free Wi-Fi for your use, a state-of-the-art LCD TV connected to YES cables and more.You will also find a fully equipped kitchenette with a quality coffee machine - and capsules, a minibar, a coffee and tea stand and a microwave. Next to the kitchen you will find a dining area for four in shades of wood and white.Separate children's room, with connecting door. It has a bed and a TV connected to YES cables, Wi-Fi and air conditioning. Bathroom with pampering shower, toilet, and bathtub. There you will find towels, bathrobes and toiletries for your use.The cabin has a direct exit to the private courtyard of the complex and the suite.
Private outdoor area
The area of ​​the private courtyard of the complex is also private to the suite because the cabin is the only one in the complex - which guarantees you complete privacy - suitable for couples and the religious public.The yard has an extra large private pool (13X6), covered in the winter months, surrounded by beautiful green grass, on which you will find many seating areas including sun beds, hammocks and swings.Arranged barbecue area in the yard, seating areas and a large shaded plaza for family meals.You will also find a huge spa Jacuzzi standing in its own niche with large white curtains that will help with shading.
Include on vacation
Upon arrival at the complex you will enjoy a variety of products and pampering things, quality wine, milk, coffee capsules, delicious snacks, soft drinks, water and more.In addition, you will find body and face towels, bathrobes, and fragrant toiletries.By prior arrangement and additional payment you can enjoy:Delicious pampering chef meals.Breakfasts with equal treats, delicious and nutritious.Extremely pampering spa and massage treatments.
חשוב לדעת
* הבריכה לא מחוממת * אין כניסות בשבת* בבקשה לא להתקשר בשבת
Booking Conditions
click here
facilities
Reviews on goren scent
Reviews were written by visitors who stay us a guest in
goren scent
Found a mistake on the pag goren scent?
click here