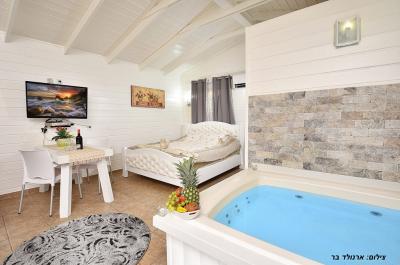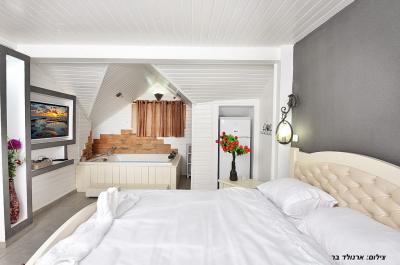 Luxurious suite for couples
About Us
Gan Kinneret - About Us
Anemone community near the Sea of Galilee and close to the river bed and breakfasts Compound is Tzalmon pampering "Gan Kinneret ." Four cabins magical love and intimacy hidden among green lawns with a large swimming pool and corners Mfnkot.hofsh loving combines romance, treats and lots of nature.The hosts espouse personal attention to every guest and create a private space especially worthy of a luxurious vacation.Nearby Enjoy ATV and Jeep, horseback riding, kayaking, visiting the site Tzalmon River, visiting the Golan Heights and the Golan Winery, browsing Hermon, nature walks (hiking Golan Heights Golf Tzalmon stream, Nahal Amud, Ma'ayan Baruch, a square, c 'Ilbon etc ...).
An inside look
In all the cabins and the spacious suite you will enjoy a large space that includes a comfortable and luxurious bed wrapped in soft and pleasant bedding. The design is clean and pleasant when the white color dominates and creates a romantic atmosphere. They all have a large double Jacuzzi, a seating area and a dining area. Air conditioning and a fully equipped kitchenette including: refrigerator, microwave, kettle, coffee / tea corner and electric hob.* The family suite has a pleasant gallery floor for children, which also provides privacy for parents during the vacation, and a pleasant and covered terrace with a dining table.
Include hosting
Bed and treats each cabin: coffee and tea, bath towels, face and hands, Cosmetics for bathing and scented candles.
Meals
Breakfast very luxurious and varied appointment
Important Information
* The owners of the complex keep Shabbat so that on-line orders that arrive nearby and after Shabbat and holiday are only taken care of after Shabbat and holiday, accommodations must be arranged in advance on Saturdays and holidays.
Booking Conditions
click here
facilities
Reviews on Gan Kinneret
Reviews were written by visitors who stay us a guest in
Gan Kinneret
Found a mistake on the pag Gan Kinneret ?
click here