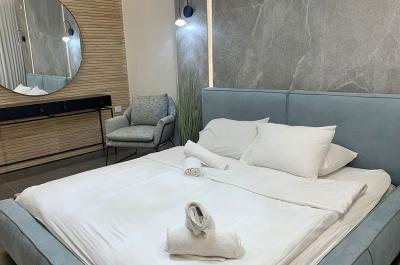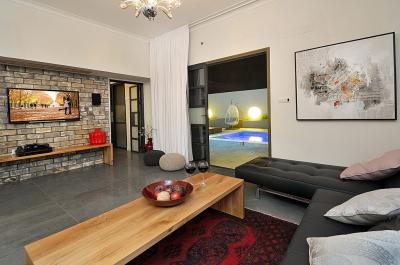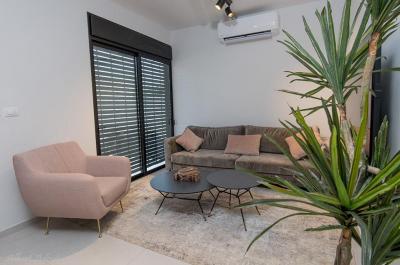 About Us
Shalva Ilait - An intimate and prestigious holiday in luxurious boutique suites
Two boutique suites that offer you a luxurious and intimate resort, thanks to its private outdoor areas, perfect equipment and luxurious design, allow yourself to be pampered as you have not yet ...The two suites of Shalva Ilia, which are named "Noam" and "Tahor", boast a luxurious and intimate design and private accommodation, including a swimming pool and a completely private spa Jacuzzi.
The pampering suites
The prestigious suites have a completely private area for each!The complex includes a luxurious built swimming pool (heated and covered in winter), a professional spa hot tub, a well maintained garden area, romantic lighting, a barbecue area and a peripheral terrace that maximizes the privacy of the guests.Inside the suites, they have not given up on luxury design either, from the smallest to the largest: two LCD screens with SMART TV technology and cable connection, a well-equipped bedroom, a luxurious bathroom, spacious central space, a well-equipped kitchen, an intimate dining area and a window A huge panoramic through which you can go out to the private pool complex.In addition, you can access the outdoor pool area also from the bedrooms in the suites thanks to a huge sliding door hidden behind a curtain for full intimacy.
Include hosting
A bottle of fine wine, capsules for the coffee machine, milk, tea / coffee, refreshments, bath towels, bathrobes and scented soaps.Additional chargeEnjoy a rich and pampering breakfast directly to the suite or varied chef meals at different times during the day.
Important Information
children:The pool area is safe for children, you can get a baby cot or additional mattresses and you can enjoy table games and a huge trampole.For the religious public:The refreshments are kosher, the dishes are kosher, there is a Shabbat clock on the spot, a mikveh (ritual bath) in the community, and a Samovar and Shabbat plate can be supplied.
Booking Conditions
click here
facilities
Reviews on Shalva Ilait
Reviews were written by visitors who stay us a guest in
Shalva Ilait
Found a mistake on the pag Shalva Ilait?
click here