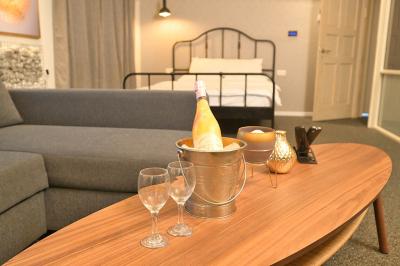 A dreamy guest suite with a private pool and complete privacy
About Us
evon suite - Luxurious guest suite with private pool and pampering spa jacuzzi
New complex! Opened in December 2020In Shlomi, which is in the Western Galilee, there is an Yvonne Suite, a luxurious and luxurious suite suitable for couples or families for people looking for a dreamy and enjoyable vacation, especially in the Western Galilee, around a variety of attractions and green Galilee landscapes.
The interior of the suites
In the suite you will find a chaise longue with a table designed in front of an LCD screen with connection to YES channels.The suite is designed in an open style and next to the living room there is a spacious and comfortable double bed.In the suite you will also find a well-equipped kitchenette with a coffee and tea set, a Nespresso coffee machine, a baking oven and an island with a seating area.The extra spacious bathroom has a shower and pampering soaps.
The garden area
In the outdoor area you will find a clean and spacious swimming pool with shade above it, a hot and indoor spa Jacuzzi, vegetation that includes potted plants and manicured trees, seating areas, sun beds and a pampering seating hammock, a stone oven and a luxurious and professional gas BBQ.
Include on vacation
In the price of accommodation you will find a rich selection of treats that includes:Fine wine, milk, coffee capsules, quality soaps, homemade cookies in professional baking and seasonal fruits.
Meals
By prior arrangement and at an additional cost, breakfasts and a variety of desserts can be ordered from an outside provider to the suite.
Important Information
The B&B is suitable for the religious public and in Shlomi you will find a number of synagogues.
Booking Conditions
click here
facilities
Reviews on evon suite
Reviews were written by visitors who stay us a guest in
evon suite
Found a mistake on the pag evon suite?
click here