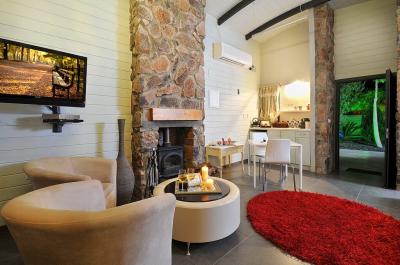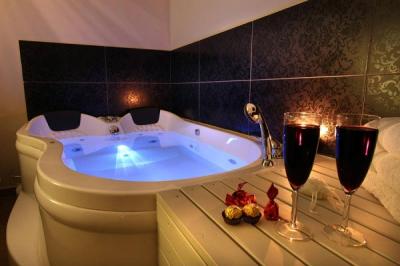 About Us
Euphoria - Let yourself feel light on your vacation ...
Euphoria is a sense of lightness, hovering, so choosing the name for the romantic complex is obvious. It begins with the aesthetic contours of the unique basalt walls combined with wood, continues with classical furniture against a dark and dominant background, and seals the enjoyment in a pastoral and landscaped courtyard that includes a heated pool and covered in winter for all the suites in the complex. Euphoria invites you to a magical pastoral vacation under the auspices of all the pleasures of the possible resorts.
The suites
three beautiful suites are located in the luxurious euphoria complex ,The family suite and the East and West suites are both romantic and warm, but the suites are different in their style, such as a luxurious inner sauna located in the East and West suites or the new luxurious bathroom in the family suite.Each suite has a wide and comfortable double bed with an orthopedic mattress, an extra large internal Jacuzzi with internal lighting, an LCD screen with yes channels, a DVD player, a romantic wood fireplace for the cold winter days, a sitting area, an elegant bathroom, an intimate dining area And a fully equipped kitchenette including Nespresso coffee machine, electric kettle, kitchen utensils and more.In the East and West suites you will enjoy a private courtyard full of well-tended greenery, romantic lighting and pleasant seating areas.The Common Foreign AreaIn the common area of ​​the suites you will enjoy a luxurious swimming pool (3/5.5), heated in the winter, covered with light wooden decks and surroundings, elegant seating areas and sunbeds. The pool is bordered by the exterior walls of the suites and a high stone wall that protects the privacy of the guests.
Emphasis on the spot
Rich breakfasts and chef meals can be enjoyed in coordination and payment.Home honors: fine wine bottles, coffee / tea set and tasty surprises.Treats: soft bathrobes, spa shoes, quality body towels, toiletries.By appointment and at a separate cost you can order body and soul treatments.
Attractions
Moshav Had Nes is a 5-minute drive from the shores of the Sea of Galilee and only minutes from a variety of ATV, jeep and horseback riding, kayaking / canoeing, water walking, fine restaurants, fruit picking and more.
Important Information
The vacation can be booked as part of a half-board deal at a pampering price.During the months of July and August, the children can be added to the East and West suites.
Booking Conditions
click here
facilities
Reviews on Euphoria
Reviews were written by visitors who stay us a guest in
Euphoria
Found a mistake on the pag Euphoria?
click here