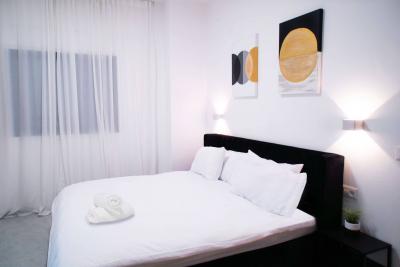 About Us
Emosion - Luxurious and modern guest suite with private swimming pool
A new complex was launched in August 2021The "Emocion" suite - as it is called - is a quiet, luxurious private luxury.The suite is especially suitable for couples who want a quiet and pleasant vacation, or for families up to 6 people.Located in Moshav Ein Yaakov in the Western Galilee, between landscapes, mountains and valleys.The complex is fenced to maintain complete privacy so that your private swimming pool will be intimate and quiet. Ein Yaakov, in the Western Galilee - in the north of the country, around the moshav, there are lots of attractions and family and romantic activities.In the moshav you will find a synagogue, a grocery store, and a playground. And you can consult with the hosts regarding recommended places in the area.Romantic restaurants, ATV rides, jeep rides, horseback riding, markets, shopping and entertainment centers, and many pastoral hiking trails.
The suite
Luxurious suite suitable for families of up to 6 people or couples.The private suite has a central space with an intimate living room and is decorated with velvet sofas in shades of black and gray.Fully equipped kitchen with oven, refrigerator, microwave, coffee maker, and kit for making coffee and tea.Next to the kitchenette is a comfortable dining table decorated in the same and modern shades.The suite has a double double bedroom, with a large and designed double bed, offered in quality bedding.It is possible to accommodate up to 4 children in the suite.In the bathroom, toilet, shower as well as soft towels and pleasant bath cosmetics will be waiting for you.
The outside area
The suite has a completely private outdoor area with a private pool, surrounded by a modern wooden deck, next to it a large parasol, comfortable seating areas, sun beds, a comfortable barbecue stand and a large gazebo for pleasant shading.The outdoor area is decorated with synthetic grass and night lighting and ornamental flower pots.
Included in accommodation
Upon arrival at the complex you will receive milk, chocolates and treats, capsules for the coffee machine, soaps and toiletries, soft and pleasant towels.
ארוחות
תוכלו לתאם ארוחות בוקר מול בעלת המתחם
Booking Conditions
click here
facilities
Reviews on Emosion
Reviews were written by visitors who stay us a guest in
Emosion
Found a mistake on the pag Emosion?
click here