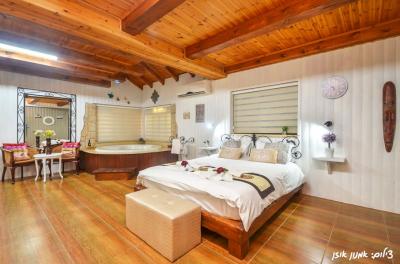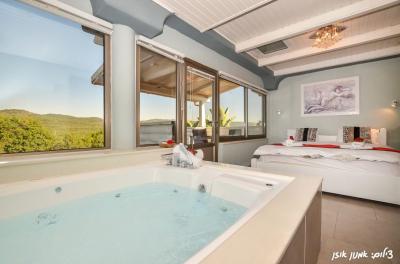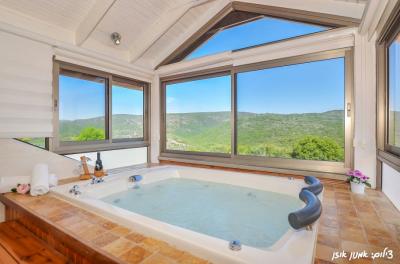 About Us
El Mol Hazriha - Pampering suites facing breathtaking views
In Moshav Granot Hagalil, opposite the green views and the mountains of the Galilee spread around it, situated a pampering area in a magical rural atmosphere, where peace and quiet touched and enveloped you as soon as you walked into it. In the complex you will find 3 spacious and pampering suites designed to accommodate couples and families for a perfect country vacation experience at a high level with heartfelt treats.All the suites have a luxurious common garden area with a large wooden pool, sitting areas and sunbeds.
The interior of the suites
In the complex facing the sunrise there are 3 pampering suites, 2 pampering accommodation units suitable for couples and for families with children and one romantic suite for couples.Each luxurious suite has a king size bed, a romantic double Jacuzzi, a cozy dining area and a living room for sitting and watching a 42-inch plasma screen with a connection to yes's satellite channels and a home cinema system. The suites are air-conditioned and cozy with Wi-Fi, Fully equipped with refrigerator, water bar, electric hob, coffee and tea and microwave. Each suite has a complete winter treat In addition to the Jacuzzi, there is a private sauna in each unit.* The Yuval Suite has a separate children's room with 3 beds, a TV, a toilet and a shower.
The common area of the suites
In the outer complex of the suites there is a large swimming pool, heated and covered in the winter, and cool and refreshing in the summer surrounded by sunbeds and chairs. All of this is joined by a large quality spa Jacuzzi under a winter roof, a large pergola and picnic tables. Hammocks, lovely corners and seating areas, and of course a professional barbecue corner. In addition you can enjoy a high quality snooker table and an equipped outdoor kitchen. At night, the courtyard will envelop a pleasant, colorful and soft night lighting that will provide you with the magical atmosphere of a Galilean vacation.
Include hosting
Enjoy your wine, milk, tasty chocolates, seasonal fruit and of course fragrant soaps and soft towels.extra charge:Rich breakfast in coordination with the hosts.Arrange the room according to the event you are celebrating.Massages can be booked in advance.
Location
Granot is a 10-minute drive from Shlomi and 20 minutes from Nahariya. Within a short drive from the village, a wide range of hiking trails such as Keshet and Namar Cave, Nahal Kziv, Nahal Betzet, Yechiam Fortress, etc. You can also enjoy tourist attractions such as the Rosh Hanikra site. In Acre you can visit the Bahai Gardens, Acre Harbor and the Knights' You can visit the paintball complex, take a trip to Reisirm, ATV or horseback riding. The Western Galilee is full of attractions and experiences and memories that only need to be taken.
אטרקציות ומיקום
הישוב גרנות נמצא במרחק של 10 דקות נסיעה מהישוב שלומי וכ-20 דקות מהעיר נהריה. במרחק נסיעה קצר מהישוב מגוון רחב של מסלולי טיול רגליים כמו מערת קשת ונמר, נחל כזיב, נחל בצת, מבצר יחיעם ועוד, תוכלו ליהנות גם מאתרי תיירות כמו אתר ראש הנקרה, בעיר עכו תוכלו לבקר בגנים הבהאיים , נמל עכו ואולמות האבירים, למי שאוהב אקסטרים תוכלו לבקר במתחם פיינטבול, לצאת לטיול רייזירם, טרקטורונים או רכיבה על סוסים. הגליל המערבי עמוס באטרקציות ובחוויות וזיכרונות שרק צריך לקחת.
Booking Conditions
click here
facilities
Reviews on El Mol Hazriha
Reviews were written by visitors who stay us a guest in
El Mol Hazriha
Found a mistake on the pag El Mol Hazriha?
click here