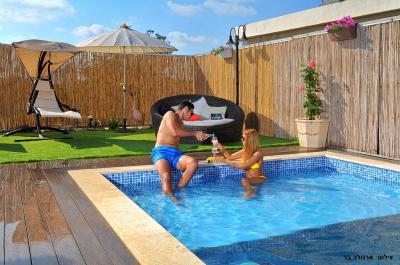 Suite Dreams luxurious couples only, with private garden and compound pool adjacent. A romantic and unforgettable experience in luxury suite Dorne'ss at Galilee "Moshav" Ben-Ammi. This is a private site, modern and luxurious, which is one of the finest resort complexes in the north, while surrounded by a garden all four sides and bordered by a high fence and elegant privacy practices. The design with bright colors, modern amenities combine luxurious and comfortable. Alongside the entrance stands a huge Jacuzzi pool could look luxury bed in front of sky lighting overlying spectacular! During your stay you can enjoy a sophisticated viewing experience that includes two SMART TV screens accompanied by 3D technology matching glasses that are waiting for you. In magnificent private garden Built for you fancy pool heated and indoor with internal tanning stage and luxurious rest areas environment. Dorne'ss suite stay close and personal accommodation includes 5-star pampering a range of relaxing refreshing atmosphere.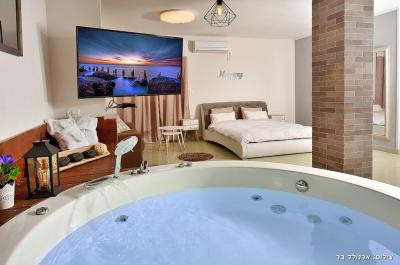 A luxurious dream suite 50 meters open space with a private garden area with a luxurious swimming pool. Attached to suite 2. The suite is brand new, designed in the hottest trends, equipped with technological innovation and surrounded by a high fence for privacy and intimacy. In each suite you will enjoy a luxurious double bed, on either side of which are matching chests, a high-quality sofa that opens onto the bed, a huge circular Jacuzzi that stands in the corner of the suite and gives it luxury and endless pampering. During your stay, you can enjoy a sophisticated viewing experience that includes a SMART TV LCD screen. An elegant bathroom with interesting ceramics and a rain shower head, an intimate dining area and a well-equipped kitchenette including Nespresso espresso machine, dishes and serving dishes and more. In the pampering outdoor area of ​​the suites you will enjoy a courtyard surrounded by a high quality fence for maximum privacy, a cool and luxurious pool with an internal tanning stage and quality sunbeds. The stay in the suite includes 5-star personal accommodation, a variety of pampering and a relaxed and refreshing atmosphere.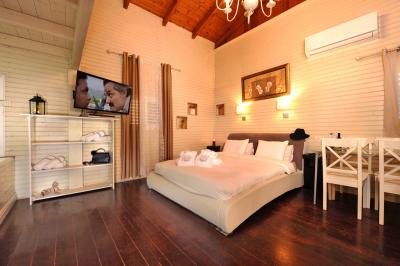 A luxurious and private holiday cabin for only one couple or a family - surrounded by nature and rustic atmosphere and located only minutes away from all the entertainment and hiking options in the Western Galilee. Gaya Guest House invites you to a personal vacation that combines a unique rustic atmosphere with a luxurious stay full of all good, including a particularly impressive swimming pool and personal hospitality of the highest standard. The interior design of the classic line is meticulous and beautiful, divided into a central space where the luxurious sleeping area and the Jacuzzi are located, a living room and a fully equipped kitchenette, with a cool gallery floor suitable for the children's lodging. Outside the cabin you can continue to enjoy a private garden area with a swimming pool under the highest quality construction, paved with mosaics and suitable for all seasons.
About Us
Dornes - מתחם סוויטות יוקרתיות לזוגות בלבד- עם בריכה פרטית מרהיבה לכל סוויטה!
Among the perfumed fruit orchards lies the ultimate vacation experience for vacationers who wish to experience the highest quality of vacation. Dorn's is a luxury vacation resort with 3 luxurious suites and an intimate white wooden cabin, where you can enjoy a romantic experience that includes a luxurious and private pool for each one, a glamorous design and a personal and indulgent hospitality.Moshav Ben Ami is located close to the city of Nahariya, a short drive of 5 minutes Enjoy its beautiful beaches and wonderful beaches Achziv, the site is also close to the best tourist sites in the Western Galilee: Rosh Hanikra, Lake Monfort, Bahai Gardens, Old Acre, In the north there are lots of attractions: jeeps, ATVs, horse trips and more.
בחורף
In each of the four luxury units, you can always enjoy a well-heated personal Jacuzzi, luxurious down duvets and sweet treats.* In addition to the Honeymoon suite and the Gaia Pool you will enjoy a private indoor heated swimming pool.
כלול באירוח
In the luxurious suites you will enjoy a bottle of fine wine, milk, coffee capsules, coffee / tea, seasonal fruit, , soft bathrobes, quality bath towels, face and hands towels, spa shoes, toiletries and soaps.In the Gaya Cabin you will enjoy a bottle of fine wine, a full coffee set (including espresso capsules), bathrobes, body towels, toiletries and soaps.
תוספת תשלום
In coordination with the hosts, a rich and invested breakfast will be served to the suite.Professional treatments for body and soul by qualified therapists can be booked in advance directly to the suite.
חשוב לדעת
* In the honeymoon suite and in the Gaia pool in the winter, the pool is heated and covered!* Suites 1 and 2 are joined together.* The suites are located in an agricultural settlement and there are animal crops in neighboring estates.
Booking Conditions
click here
facilities
Reviews on Dornes
Reviews were written by visitors who stay us a guest in
Dornes
צפייה בכל חוות הדעת
Find out attractions and restaurants near Dornes?
click here
Found a mistake on the pag Dornes?
click here