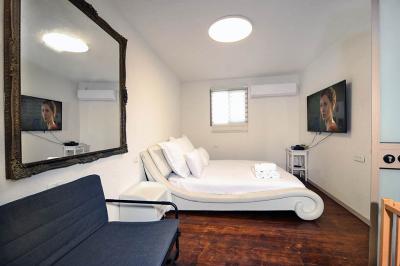 New new new launch prices
About Us
Be'Derech Yafa - Private suite in the heart of the Western Galilee with a private spa pool and Jacuzzi with a mesmerizing view
A new compound was launched in April 2019In Moshav Ein Yaakov, located in the western Galilee, in the heart of the Galilee forests, a short drive from Achziv beach and close to many attractions in the north, there is a large private suite, Well maintained, private and green including sitting corners, swings, barbecue corner and more ..
An inside look
Large, isolated private suite. The suite has a large separate bedroom with a comfortable queen-size bed, a comfortable and spacious living room, a fully equipped kitchen including a refrigerator, hob, microwave, coffee maker and serving dishes, with a balcony with a heated private swimming pool and spa Jacuzzi. A huge dinner.
External area
When you exit the suite you will arrive directly on a raised wooden balcony and enjoy a dreamy view that can be viewed directly from the private pool available to you. In addition you will enjoy a large comfortable seating system and a huge dining area. To your mobile phone and you will be invited to stay in the luxurious outdoor area, with good music directly from your cell phone. Enjoy a ping pong table and poker.A private garden with green lawns that are fenced and private only for the guests of the suite, which includes swings, a barbecue corner, and a beautiful green corner.
Include on vacation
Upon arrival there will be a host of treats such as; Champagne, chocolates, snacks, milk, coffee and more.For the religious public - there is a hot plate and hot water for Shabbat, a synagogue nearby and flexibility to leave on Saturday night from the suite.extra charge:You can enjoy rich, pampering breakfasts in advance.A variety of body and soul massage styles are available to book upon arrival.If you are celebrating a special event we will be happy to decorate the place for you.
Location and attractions
Moshav Ein Yaakov is one of the main moshavim in the Western Galilee region.In the immediate vicinity you can enjoy hiking, horse riding or cycling, rides, ATVs, jeeps etc., indulge in gourmet restaurants, tourist sites and many attractions for couples and children.Surrounded by green landscapes and surrounded by a pastoral and pleasant atmosphere.
Booking Conditions
click here
facilities
Reviews on Be'Derech Yafa
Reviews were written by visitors who stay us a guest in
Be'Derech Yafa
Found a mistake on the pag Be'Derech Yafa?
click here