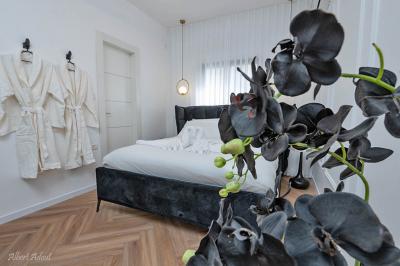 Intimate suite designed for couples only
About Us
suite dalmor - Intimate and secluded suite for couples only-
New was launched in May 2022 Dreaming of a couple's vacation? Breaking away from the noisy routine and connecting to yourself and your partner?The prestigious "Delmore" suite in Moshav Ein Yaakov invites you to a particularly intimate vacation in the private and quiet suite, along with plenty of pampering, peace and a magical view.In Moshav Ein Yaakov in the Western Galilee, a private and new complex called "Delmore" was established, for a single and quiet suite complex, isolated from background noise and immersed in a magical landscape.With a pampering outdoor complex where you will find a private spa Jacuzzi and a swimming pool - heated and covered during the winter months. Moshav Ein Yaakov is located in the center of the Western Galilee and is surrounded by plenty of romantic and couple activities and attractions. From shopping and entertainment complexes, horseback riding, ATV / jeep / razor rides, nature walks, restaurants and cafes.Within a short drive you can reach Rosh Hanikra, Lake Monfort, Yehiam Fortress, the Baha'i Gardens, the beaches of Achziv and Nahariya and more.
The suite
The "Delmore" guest suite is built in a completely private complex, with a living room designed with a high-quality, modern smart TV connected to YES cables, a fully equipped kitchenette with a coffee machine, and a double bar corner.The suite has a private bedroom in the center of which stands a luxurious double bed, in front of which is a designed mirror and a TV.With an intimate bathroom with shower and toilet.
Private outdoor area
The suite has a completely private outdoor area, covered. You will access it directly from the living room of the suite.With lawn on which rattan seating areas, with decorated coffee tables.On the upper level of the courtyard you will meet a private spa Jacuzzi and a private swimming pool, heated and covered during the winter months.Next to the pool are a pair of personal rattan armchairs, a barbecue area, chairs and tables.
Included in accommodation
Upon arrival at the suite you will find: quality wine, soft drink cans in the fridge, milk, capsules for the espresso machine, chocolates, a coffee corner, cookies and seasonal fruits. In the bathroom you will find quality toiletries, soaps, slippers, fluffy towels and bathrobes.By prior arrangement and additional payment: You can indulge in a double / single massage, room decorations, enjoy a rich breakfast.
meals
By prior arrangement and at an additional cost, breakfast is provided up to the suite.
Booking Conditions
click here
facilities
Reviews on suite dalmor
Reviews were written by visitors who stay us a guest in
suite dalmor
Found a mistake on the pag suite dalmor?
click here