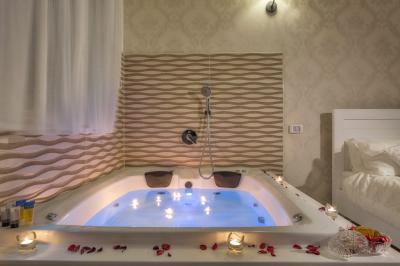 About Us
Suites C Hanof - And this time it's not just a cliché, totally at the height of the landscape!
In a magnificent view of the mountains of the Lower Galilee and the valleys, magnificent suites are located in an excellent observation point with precise accessories and luxurious design. The suites are identical to each other and share a well-maintained garden complex with a built-in swimming pool, sun beds and comfortable seating areas in front of the charming scenery.
The suites
In a gentle and romantic design, in the colors of mobility and white, the two prestigious suites of the place were established, which is indeed at the height of the landscape in the village of Hananya.In the suites you will enjoy a pleasant double bed, with a huge wall of wallpaper that combines with a special ceramic wall that surrounds the large and luxurious Jacuzzi.A comfortable sitting area, an LCD screen with yes channels, an intimate dining area, a bathroom, a fully equipped children's room with bunk bed, kitchenette with electric kettle, microwave, coffee corner and more.You can exit through a large sliding door to the common courtyard area and view the view through the suite windows.
The Foreign Compound
In the outdoor complex you will enjoy first and foremost a breathtaking view! Which overlooks the complex and can be viewed from every corner of the suite, creates an atmosphere of peace and tranquility.In addition to the outdoor complex you will enjoy a luxurious swimming pool, surrounded by a safety glass fence, sun beds around, rocking, palm trees and shaded sitting areas overlooking the landscape.
Attractions
Kfar Hanania is only 20 minutes away from the Sea of Galilee, and you can enjoy a short trip to enjoy clean, clean beaches.In the moshav environment you can go to a wide variety of water attractions, terrain trails, ATV or bicycle trips, kayaking and more.
חשוב לדעת
לא ניתן להביא מערכות הגברה וקריוקי.אסור מנגל בשבת.אסור מוזיקה בשבת.
Booking Conditions
click here
facilities
Reviews on Suites C Hanof
Reviews were written by visitors who stay us a guest in
Suites C Hanof
Found a mistake on the pag Suites C Hanof?
click here