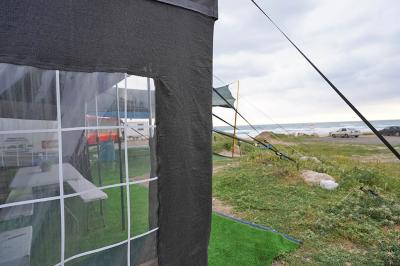 Cozy family trailer with two double beds really touching the waterSuitable for couples, but especially for families up to 6 people, accessible. With 2 double beds, niche in a small window-to-fan trailer, 2 LCD TVs, wireless internet streamer, era +, Netflix, internal and external audio systems connect to the lotus, places and storage cabinets. The trailer also has a kitchenette with fridge, gas hob, sink, and serving utensils. The trailer is air-conditioned. Adjacent to the kitchen is a sitting / dining area with sofa chairs, next to a window. In the trailer you will find a standing shower, with neat and comfortable toilet, with a window to ventilate. Outside the trailer located in Haifa's student body, just 10 steps from the water you will find neat synthetic grass, roasting, seating for 12 people, with a large dining table, in addition to a comfortable inexpensive corner, with beanbags and armchairs, tanning beds, and another large dining table. A few steps and you also dive into the pleasant waters of the Mediterranean coast
About Us
A trailer on the sea - בואו וגלו את השקט, הנחת, והשלווה על החוף
New June 2020"Trailer on the sea" - As it is, a beautiful and fully equipped trailer just 10 steps to the water. Suitable for accommodating couples or families - up to 6 people.The trailer is parked on the student beach in Haifa, and besides its interior, it is full of treats inside as well, a shaded area with synthetic grass, seating areas, tables, comfortable chairs, a barbecue area and more.Completely suitable for families or a couple of friends who want to indulge in the Mediterranean and are not afraid of some sand in the feet.Haifa and the surrounding area has plenty of attractions, hiking trails, restaurants, bars, shopping malls and shops and many more ways to keep yourself busy.
פנים הקרוואן
The large and large family trailer - will of course also fit for couples, but can also accommodate a family of up to 6 people, built comfortably, accessible, and mostly light and luxurious.The trailer has 2 comfortable double beds, located in a trailer in the trailer - with a small window to ventilate, 2 luxurious LCD screen TVs, connected to a streamer with wireless internet, era +, Netflix with series and movies etc., internal and external audio systems connect to the lotus, places and storage cabinets for your belongings.In the trailer you will also find a fully equipped kitchenette with a large refrigerator, gas stove, sink, and serving utensils.The trailer is air conditioned, and well maintained. Adjacent to the kitchen is a sitting / dining area with sofa chairs, next to a window.In the trailer you will find a standing shower, with neat and comfortable toilet, with a window to ventilate.
מחוץ לקרוואן
Outside the trailer located in Haifa's student body, just 10 steps from the water you will find neat synthetic grass, roasting, seating for 12 people, with a large dining table, in addition to a comfortable inexpensive corner, with beanbags and armchairs, tanning beds, and another large dining table. A few steps and you also dive into the pleasant waters of the Mediterranean coast
כלול באירוח
Milk, coffee and tea, serving utensils
חשוב לדעת
מומלץ להתאבזר במגבות ותמרוקי רחצה.
Booking Conditions
click here
facilities
Reviews on A trailer on the sea
Reviews were written by visitors who stay us a guest in
A trailer on the sea
צפייה בכל חוות הדעת
Found a mistake on the pag A trailer on the sea?
click here